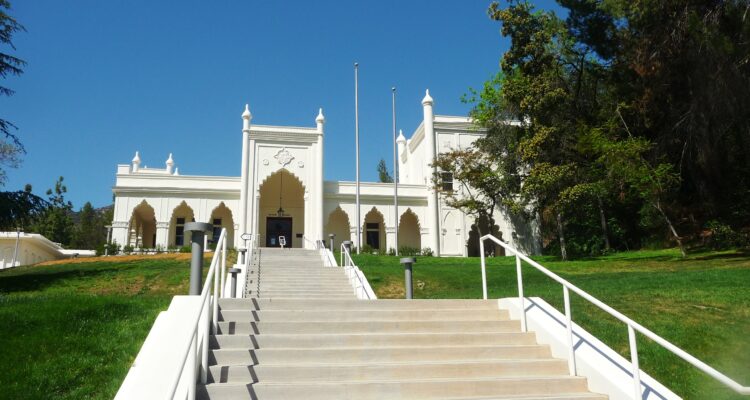 Place
Brand Library and Art Center
One of Glendale's most iconic buildings received a much-needed renovation and seismic upgrade, revitalizing an anchor of the community and exemplifying civic stewardship.
The Brand Library and Art Center, one of Glendale's most iconic buildings, sits at the base of the Verdugo Mountains.
Leslie Coombs Brand, a prominent figure in the development of Glendale, commissioned the 5,000 square-foot mansion from his brother-in-law, Nathaniel Dryden. Its design was inspired by the East Indian Pavilion at the 1893 Columbian Exposition in Chicago. Brand completed the building in 1904 and named it El Miradero, Spanish for "a high place overlooking an expansive view."
Brand passed away in 1925, and he bequeathed the mansion to the City of Glendale. He stipulated that the City must use the property as a library and its expansive land as a public park.
After Mrs. Brand's passing in 1945, the City converted the mansion to the Brand Library in 1956. It was listed on the Glendale Register of Historic Resources in 1977.
The transition from home to library entailed incompatible modifications to the building. Fluorescent lights replaced original chandeliers; acoustic plaster covered the ceilings; and to make room for shelving and exhibits, the City filled windows and door openings.
After more than fifty years serving the community, the library's rehabilitation began in July 2012. Based on the extensive needs for renovation, deferred maintenance, and seismic retrofitting, the ambitious project far exceeded its available budget. Yet the City deemed the project imperative and reallocated resources to move forward.
The project team set out to return the building to its original state while keeping its function as a library. They painstakingly removed all the incompatible additions. Just a few examples include replacing and recreating windows into the Solarium, reconstructing a fireplace that had been removed in the 1950s to make way for shelving, and refinishing the surviving original woodwork.
The mansion had unreinforced walls: a major safety concern for the City. After much analysis, the team devised a clever way to seismically strengthen the structure without any visible evidence.
The mansion's decorative ceiling was perhaps the most notable restoration. Removal of the acoustic plaster revealed a faded painting underneath. Artists used photographs to reconstruct the original paintings.
The Brand Library and Art Center is a fantastic example of how a community anchor can be revitalized through strong civic stewardship.