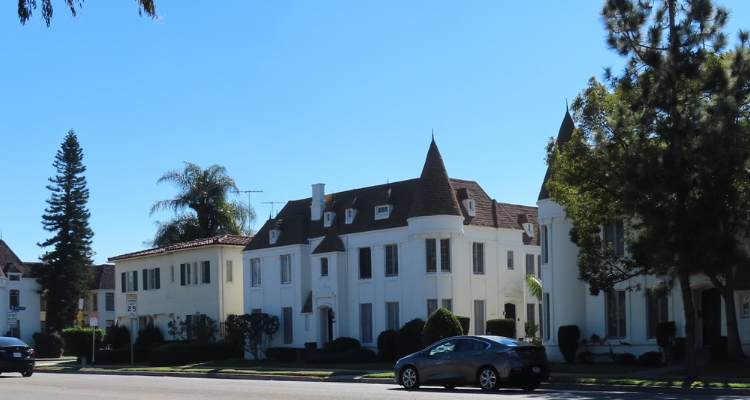 Place
Carthay Neighborhoods Historic District
The Carthay Neighborhood District is one of the most architecturally significant HPOZs in Los Angeles, reflecting the ambition and prosperity of 1920s Los Angeles.
Place Details
Designation
Property Type
First developed in the 1920s and 1930s, the Carthay Neighborhoods Historic District is a cohesive, intact collection of 1,171 buildings and associated tract features. The district comprises three subdivisions established between 1922 and 1933, each of which is locally designated as a Los Angeles Historic Preservation Overlay Zone (HPOZ).
The first HPOZ, Carthay Center (aka Carthay Circle), strongly reflects the "City Beautiful" movement's influence on developer J. Harvey McCarthy and his master landscape architects Cook & Hall. A reaction to industrialization, the City Beautiful approach emphasized rationality, monumentality, and order to encourage virtue and improve quality of life in a metropolis. The development also illustrates the ambition of Los Angeles city and corporate boosters of residential development as Los Angeles began its westward expansion throughout the 1920s. Carthay Circle was soon followed by the immediately adjacent Fairfax Park (today known as Carthay Square) and Olympic-Beverly Plaza (today known as South Carthay) subdivisions.
Developed in 1923 and 1933, respectively, these subdivisions closely hewed to Carthay Center's design principles and ideals. Together the three subdivisions of the Carthay Neighborhoods Historic District tangibly express the practical application of key City Beautiful ideas to residential developments during a period of intense development in Los Angeles. The district is not only an embodiment of the ideal 1920s and '30s residential neighborhood in Los Angeles, but is in many ways the prototype for that ideal – the Carthay neighborhoods influenced the design and development of many subdivisions, and the district's outstanding architecture truly conveys the sense of life in Los Angeles during one of its greatest periods of growth.
The Carthay Neighborhoods Historic District is also significant for its exquisite architectural and visual character, as it possesses an excellent, intact concentration of Period Revival designs: Spanish Colonial Revival, Storybook, Tudor, Mediterranean Revival, and French Revival. Contributing buildings within the district are primarily single and multi-family residences which are notable for the high quality of their design and craftsmanship.  Residences were constructed by many of the most renowned architects of the day, including S. Charles Lee, Louis Selden, Irving Gill, Edith Northman, Leland A. Bryant, G. Lawrence Ott, and Paul R. Williams. Several of these architects also lived in the district, in homes of their own design, including famed theatre designer S. Charles Lee.
In 2022, after two years of community collaboration, research, analysis, and documentation, residents of three Carthay Historic Preservation Overlay Zones succeeded in listing the Carthay Neighborhoods Historic District on the National Register of Historic Places (NRHP)! Their passionate community advocacy won a Preservation Award from the L.A. Conservancy in 2023.
2023 Celebration Video
The L.A. Conservancy celebrated the 2023 Preservation Awards winners at the historic Television City in Hollywood with a video showcasing their stories. The program celebrated their hard work, dedication, and achievement. We're thrilled to share Carthay Neighborhoods Historic District inspiring stories with you.