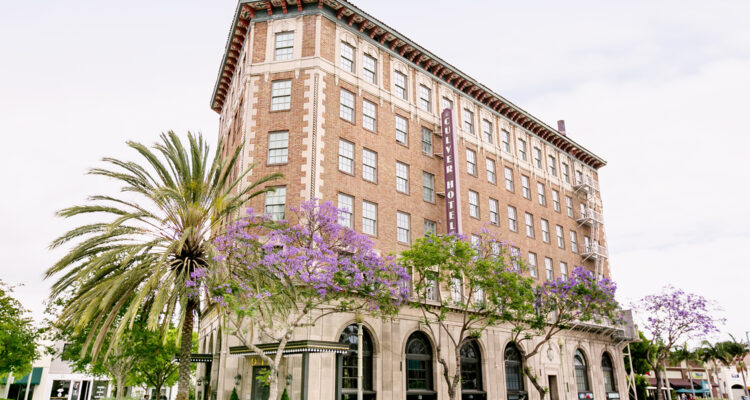 Place
Culver Hotel
A masterpiece of Beaux-Arts design, the press dubbed the six-story building a "skyscraper" at the time of its opening.
Upon its opening in 1924, local press dubbed the flatiron-shaped building a "skyscraper" – its six stories visible from miles around. Standing at the epicenter of the newly-founded Culver City, the hotel (originally named the Hotel Hunt) housed the offices and vault of none other than the city's founder, Harry Hazel Culver.
A masterpiece of Beaux Arts design, the building's ornate Renaissance Revival architecture is easily appreciated by visitors in the city's pedestrian-friendly downtown. At the time of its opening, the 150-room hotel featured one bathroom on each of its four accommodation floors. (Today each of the hotel's 46 rooms features private bathroom facilities.)
From its upper floors, hotel guests could appreciate the views and nearby convenience of the studios and back lots of Thomas Ince, Hal Roach, and soon after, Metro Goldwyn Mayer. Over time, those guests would include Joan Crawford, Dorothy Dandridge, Douglas Fairbanks, Clark Gable, Greta Garbo, Judy Garland, Buster Keaton, Ronald Reagan, Mickey Rooney, Frank Sinatra, and Lana Turner. During the filming of The Wizard of Oz, all 124 actors portraying the film's Munchkins stayed here, too.
Movie stars didn't just stay here – some owned the hotel outright, including Charlie Chaplin who (legend has it) sold the deed to John Wayne in a poker game. Red Skelton is also believed to have been an owner. Though falling into disrepair in the decades following the 1950s, renovations begun in the 1990s have continued into the present. Today the 46-room, 4-star hotel known as the "jewel of downtown Culver City" is privately owned by the Mallick family.