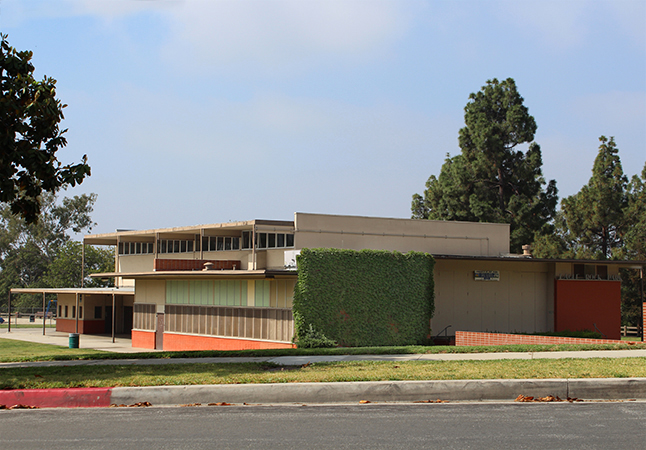 Place
Eagle Rock Recreation Center
Before gaining fame for his residential designs, Richard Neutra built a rec center, implementing it with ideas he was still exploring for his house designs
Seminal architect Richard Neutra is perhaps best known for his residential designs, but one of his finest buildings is actually a neighborhood recreation center. The Eagle Rock Recreation Center, completed in 1953, is in many ways an expansion of ideas the architect explored in his house designs. It is essentially a pavilion, with a series of walls that can be hand-cranked up like double-hung windows to open the interior to the outside. The result is an ideal design solution for the multipurpose facility, which over the years has housed everything from plays to basketball games.
Neutra's signature "spider leg" structural members are present on the building's exterior, on a larger scale than they ever appeared in a house design. Their purpose is both functional and aesthetic, as they hold up the structure while reinforcing its pavilion-like feel.
Clad in brick and stucco, the Modern style building includes a main volume that is two stories in height but maintains a low horizontal feel with its plan, flat rooflines and simple bands of windows.
This helps it to blend into the neighborhood and to facilitate a feeling of community openness and accessibility. After being threatened with demolition in the 1980s, the Eagle Rock Recreation Center was designated a Historic-Cultural Monument and has since been preserved. It is an excellent example of Neutra's Mid-Century Modern designs and a significant illustration of the way Eagle Rock embraced Modernism in the postwar period.