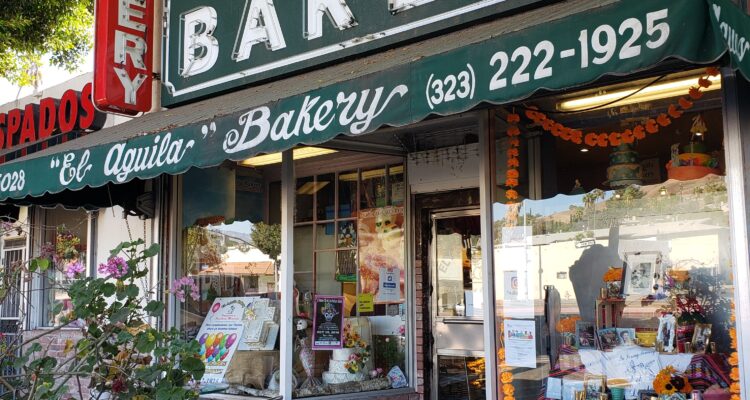 Place
El Aguila Bakery
This beloved bakery in El Sereno has served the local neighborhood since 1973.
Family-owned and operated since 1973, El Aguila Bakery on Huntington Drive in El Sereno serves pan dulce (Mexican sweet bread), cookies, cake, raspados (shaved ice), agua fresca (fruit water), and tamales.
Today, third-generation family members use the same family recipes, ingredients (even brands), and techniques of their grandfather and El Aguila founder, Apolinar Casillas. Roberto Flores, Casillas' nephew, currently operates the bakery. His clientele include second and third-generation customers, who live in the area as well as those who have moved away, but return to the bakery they remember fondly from their youth. 
Nearby supermarkets are the bakery's biggest competition and limited public parking is also an issue, according to Flores. But in his opinion, his customers keep coming back for the variety of baked goods on the menu, and also because of the traditions Casillas started, which the family has preserved over the years. These traditions include featuring pan del dia, or pastry of the day. A more recent bakery tradition of setting up a Dia de Los Muertos (Day of the Dead) altar dedicated to a past customer has allowed current customers another opportunity to connect with the local business along shared cultural traditions and heritage. Flores confirms that baked goods associated with Mexican holidays or traditions, such as Dia de Los Muertos and Dia de los Reyes (Three Kings Day) are among the most popular. Flores maintains all of his uncle's original menu offerings, but has added more, including champurrado, traditional Mexican hot chocolate, and café de olla, traditional Mexican coffee made of ground coffee, cinnamon, and piloncillo (brown sugar).