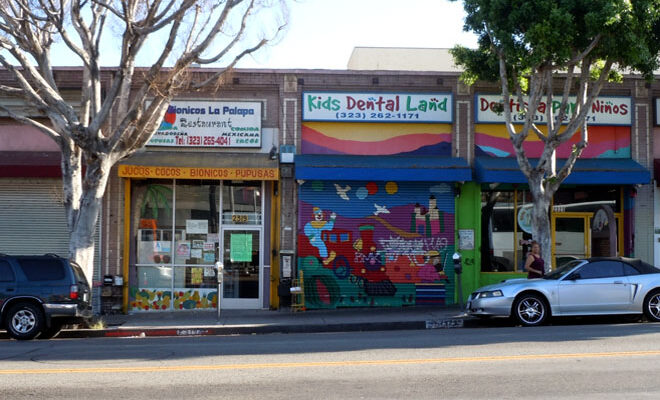 Place
Former Canter's Delicatessen
Canter's Deli, a quintessential L.A. institution, has its roots in the Jewish community along Brooklyn Avenue.
One of Los Angeles' most famous eateries, Canter's Delicatessen is a hub of the Jewish community in the Fairfax District. Yet its birthplace is the Eastside.
Now in its third generation as a family-owned business, the Canter brothers first opened a deli in Jersey City, New Jersy in 1924. Following the 1929 stock market crash, they set out for Los Angeles, opening the Canter Brother's Delicatessen in Boyle Heights in 1931. The building itself dates to 1924. 
Serving traditional deli fare, including pastrami, corned beef, matzoh ball soup, and challah, Canter's was one of many successful Jewish-owned businesses to populate Brooklyn Avenue. Like most businesses, however, it catered to a highly diverse clientele, reflecting the population of the surrounding neighborhood. 
The family opened a second location on Fairfax Avenue in 1941 in order to be closer to the emerging Jewish neighborhood, although they also operated in Boyle Heights until 1948. In 1953, the business moved into a new building in the Fairfax District, setting up shop in the space previously occupied by the Esquire Theatre. 
Today, the former Canter's building in Boyle Heights houses a dentist's office and a small Mexican restaurant.