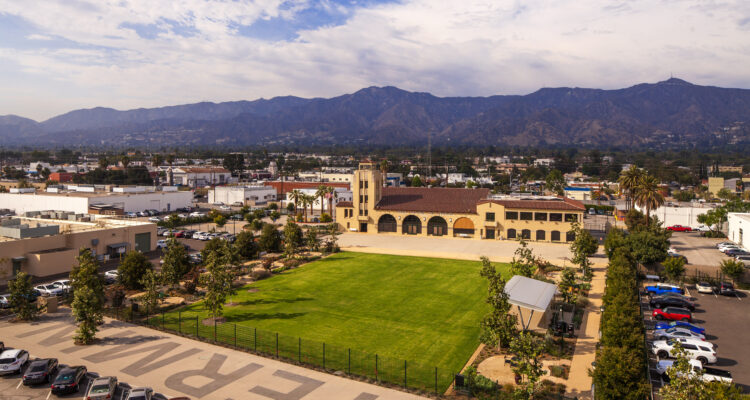 Place
Grand Central Air Terminal
One of Glendale's most beloved landmarks received a complete rehabilitation, allowing the story of the city's aviation history to live on in a new form.
Perhaps no other site tells the story of Glendale's aviation history better than the Grand Central Air Terminal.
Glendale was home to Los Angeles' first commercial airport, Grand Central Air Terminal (GCAT), where it lives on as an excellent example of preservation through adaptive reuse.
Designed by architect Henry L. Gogerty and completed in 1930, GCAT combines Spanish Colonial Revival and Art Deco design.
The airport was the birthplace of commercial air travel in Southern California. American Airlines was established there, and it was used by legendary figures in aviation, including Amelia Earhart and Howard Hughes. It also served as a backdrop for several films, including 1934's Bright Eyes, starring Shirley Temple.
During World War II, the building served as a training facility for pilots and mechanics. After the war, geographic constraints hindered the airport's ability to accommodate new—and larger—commercial aircraft.
The airport shuttered in 1959, and the property became a light industrial business park. The building fell into disrepair when, in the early 1990s, large portions of decorative finishes and interior spaces were demolished.
The building remained untouched until 2012, when its current owner embarked on an ambitious project to transform the airport for new uses. The project team rehabilitated the entire property, including the airport concourse, runway, and taxiway.
They completely restored the building's exterior and significant interior spaces. The team thoroughly researched and meticulously restored, or recreated, missing or degraded character-defining features, such as light fixtures and decorative tile.
Parts of the building were adapted into an event center and a business office for use by current tenants. The airport concourse, runway, and taxiway now serve as event space.
To build awareness of the site's history and preservation, the team created a visitor center featuring photographs, original artifacts, and an educational film.
The site was designated a Glendale Historical Landmark in 1977, and it is eligible for the California Register of Historical Resources and the National Register of Historic Places. The rehabilitation project earned a Los Angeles Conservancy Preservation Award in 2017.
Grand Central Air Terminal demonstrates a deep commitment to honoring the past while looking toward the future. The project reactivated a significant yet underused part of the city's history, earning a Conservancy Preservation Award in 2017.
Looking to contact the Grand Central Air Terminal?
The Conservancy does not own or operate the Grand Central Air Terminal. For any requests, please contact the Grand Central Air Terminal directly at (323) 221-2164.