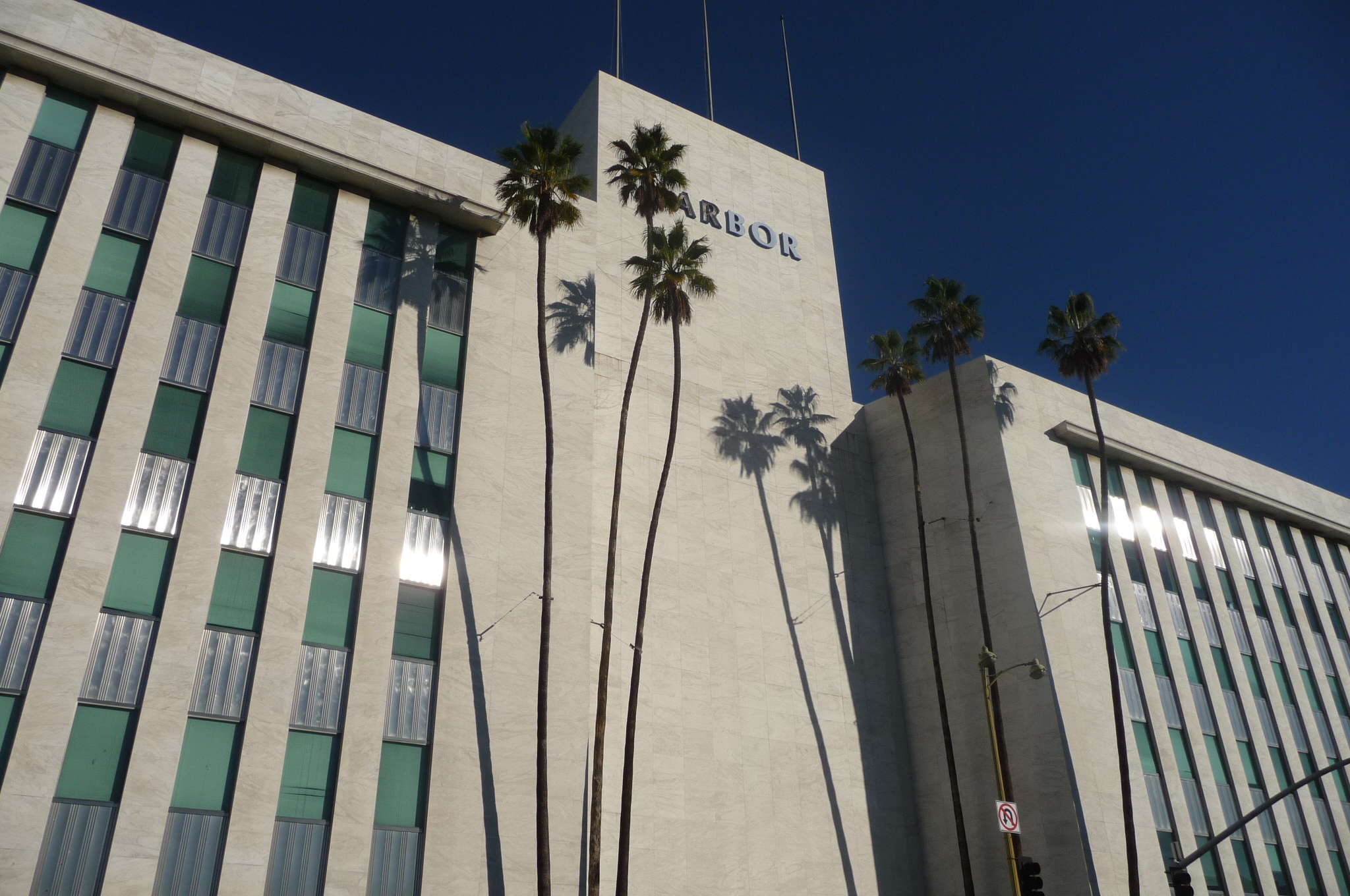 Place
Harbor Building
Combining Corporate International and Late Moderne styles, Claud Beelman's Harbor Building on Wilshire Boulevard is one of the era's most impressive corporate buildings.
If Claud Beelman's Superior Oil Building in downtown Los Angeles proved what the acclaimed architect could do by combining Corporate International and Late Moderne styles, his Harbor Building on Wilshire Boulevard proved he could do it bigger and better.
Built for the Tidewater Oil Company in 1958, the steel-framed building is massed in two six-story volumes connected by a ten-story central tower, taking up an entire city block. Its first floor is clad in black granite, with the upper floors clad in white marble piers separated by ribbed stainless steel spandrels and windows; this emphasis on the vertical and the unmoored balances the heavy horizontal massing of the building, creating a graceful if enormous presence. The central tower, covered in the same simple white marble and containing elevators and service facilities, represents the stylistic culmination of one of Beelman's little-known technical innovations: the mechanical tower.
The architect invented the mechanical tower with mechanical engineer R. M. Storms in 1930, when they placed the heating and mechanical/electrical systems of the 1930 Eastern Columbia building not in the basement as usual, but in a visually prominent clock tower atop the roof. This saved valuable basement space, simplified venting, improved safety, and reduced operating costs. Beelman used mechanical towers in many of his later high-rise buildings, giving as much attention to their cladding and massing as any other part of the building (check out Superior Oil's white marble-clad tower). In his design of the Harbor Building, Beelman enlarged the utilities-stuffed tower and placed it front and center as the defining architectural feature of one of the era's most impressive corporate buildings. Has the Modern idea of form following function ever seen a more literal, and lovely, corporate interpretation?