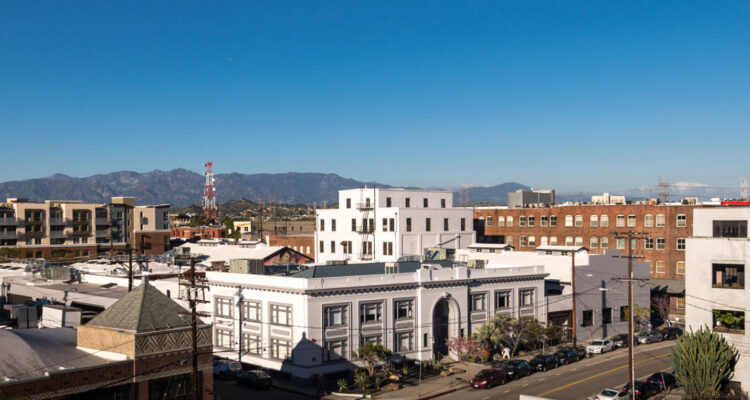 Place
Hauser & Wirth Los Angeles
This flour mill-turned-arts center shows what's possible in a rapidly changing Arts District.
The international art gallery Hauser & Wirth has a track record of restoring historic places around the world. When they opened in Los Angeles, the company adapted the former home of the Globe Grain & Milling Company (A-1 Globe Mills) in downtown's Arts District.
The complex of late-nineteenth and early-twentieth-century industrial buildings spans more than 100,000 square feet. For nearly forty years, Globe Mills processed wheat from the Central Valley and took it to the Port of Los Angeles for shipping worldwide. The company used an architectural motif of wheat sheaves and a steamship steering wheel, still visible today.
The Pillsbury Four Mills Company operated the site from 1941 until the mid-1960s. In the 1970s, the city's industrial center began a major transformation as manufacturing decentralized throughout the region. Pioneering artists and musicians moved into the area's abandoned factories and warehouses, building a thriving creative community that became downtown's Arts District.
The Arts District is now transforming again, with renewed interest and new construction. It was the perfect setting for Hauser & Wirth's newest outpost. A family business with a global outlook, the company acquired the Globe Mills site in 2014 and adapted it into a multi-disciplinary arts center.
Over two years, the project team rehabbed and upgraded the buildings while preserving their character and context. A street art historian identified the graffiti murals that covered much of the complex, many of which were restored. A massive new mural, "Pacific Ocean" by Mary Heilmann, covers the east wall of the breezeway. The gallery commissioned Los Angeles painter Kim West to re-paint and extend her existing mural, originally created in 2011 on part of the east exterior.
The center opened in 2016, welcoming 6,000 visitors in its first four hours. The Los Angeles gallery is free and open to the public, and a dynamic schedule of events draws diverse audiences. The gallery complements its exhibition program with the first ARTBOOK store in Los Angeles, a gallery space for Hauser & Wirth Publishers' Book & Printed Matter Lab, and the restaurant Manuela, featuring seasonal fare and locally sourced produce with a menu focused on foods of the American South.
The space itself is designed to foster community. It includes a public garden, murals that engage the architecture of the complex, and a dramatic and expansive open-air courtyard with sculpture and space for quiet contemplation and informal gathering. During a time of rapid change in the Arts District, Hauser & Wirth Los Angeles exemplifies the vast potential of reusing historic places in creative ways.
This project earned the Conservancy's Chair's Award in 2018, our highest honor.