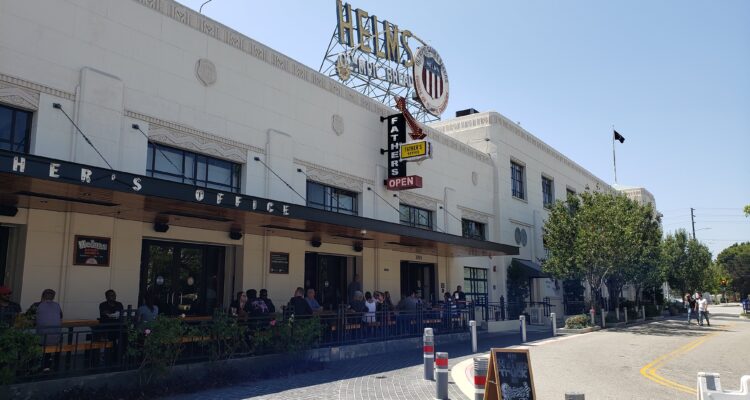 Place
Helms Bakery District
During its heyday, Helms Bakery offered over 150 different products, employed 2000 workers, and operated over 1,000 delivery trucks plying over 880 routes from Fresno to San Diego.
Complete this sentence: "That's one small step for man…"
Workers at a bakery in Culver City might have finished it with, "…one giant loaf from Helms." Contracted to provide bread for the Apollo 11 space mission, Helms-baked bread was in fact, "the first bread on the moon."
Ironically, the 1969 lunar landing of the spacecraft and its bread also marked the year Helms Bakery closed its doors. As the space age arrived, so had the competitive challenges of national supermarket chains (Helms' products were never sold in stores), higher wages, automation, and the mounting costs of maintaining the signature Helms delivery trucks.
At its peak, Helms maintained a fleet of over 1,000 of the distinctive yellow vans, visible in suburban communities from Fresno to San Diego. But as the 1960s came to a close, what became less visible in those communities were stay-at-home housewives able to buy from the drivers; they were now taking on full-time jobs in increasing numbers.
From the outside, the handsome, Art Deco building, completed in 1931, appeared as an office building. But behind those walls was an 11-acre complex including a bustling factory whose machinery produced, packaged, and truck-loaded bread – still warm from the oven – as well as fresh pastries, donuts, cookies, and candies. Those ovens were kept busy because one year after opening, the owner, Paul Helms (1889-1957) had obtained a contract to supply baked goods to the 1932 United States Olympics team, hosted by Los Angeles. A testament to that contract remains today and be seen in the building's distinctive, rooftop, neon signs. A second bakery plant was opened in Montebello in 1948, further extending Helms' reach.
After Paul Helms passing in 1957, the family continued to operate the bakery but within 12 years, the business was closed down, ending Helms' 38-year run. But three years later, Walter N. Marks, Inc. purchased the entire property, and began construction of the mixed-use facility we see today. A landscaped, pedestrian-friendly lane was re-created from a narrow road; neon signs were repaired and re-lit; artwork was installed. The transformation included an adaptive reuse journey from former factory floors and out-buildings to home furnishing designer showrooms, retail stores, arts-related enterprises, and an eclectic mix of eateries.
One of the designer showrooms includes a "history wall" depicting historic photos of the Helms bakery, its trucks, and its workers. A quick comparison of the interiors shown in the historic photos and the existing, adapted structure surrounding the exhibit, confirm that the original "bones" (overhead beams, rafters, and skylights) of the building are still evident. Missing only is the aroma of fresh-baked bread.