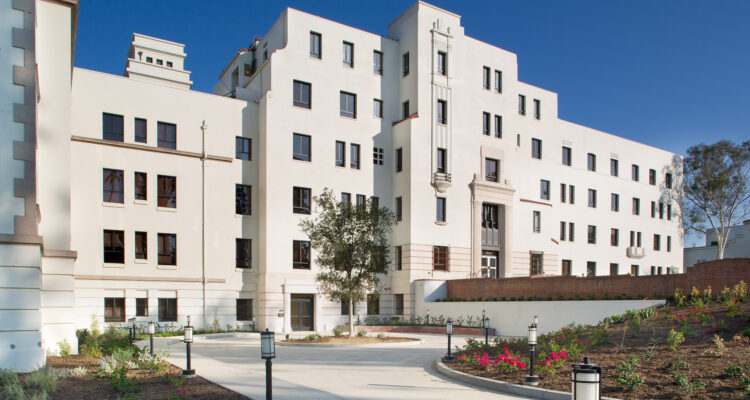 Place
Hollenbeck Terrace
A former hospital, neglected and underused for many years, reclaimed its role as a community resource through adaptive reuse as affordable housing for seniors.
A designated City of Los Angeles Historic-Cultural Monument (HCM) that is also listed in the National Register of Historic Places, this significant Boyle Heights landmark overlooks historic Hollenbeck Park.
Opened in 1905, the Santa Fe Coast Lines Hospital once served Santa Fe Coast Lines railway employees and their families.
The 190-bed hospital thrived in its early days and quickly grew into a campus. Several expansions in the following years added a north wing, kitchens, dining facilities, and a southern dormitory wing to house the hospital's nursing trainees. The 1938 main building replaced the original 1905 building that was lost in a fire.
The private hospital ran for fifty years before converting to the community hospital known as Linda Vista Hospital. After several more decades serving the community, Linda Vista closed in 1991.
The building stood largely vacant for the next twenty years. Film and production crews used the site as a filming location, and it became a popular place for thrill-seeking trespassers. The building fell into serious disrepair through misuse and lack of proper supervision and upkeep. At its lowest point, the historic site succumbed to vandals and thieves.
The current owner purchased the building in 2011 with the intent of adapting the former hospital into low-income housing for senior citizens—a dire need in the community.
Between 2012 and 2015, the project team worked diligently to restore the landmark to its former grandeur. The team stripped the building of decades' worth of remnants left by film crews and vandals, as well as removing the remaining hospital equipment.
They rehabilitated the exterior of the Nurses' Dormitory and converted its interior into twenty-three apartment units. In the main building, they converted the laboratories and patient rooms into more units.
The neglected garden now serves as a communal area with barbecues, patios, and trellises. The historic lobby and living room now provide gathering space for residents.
The team rehabilitated all historic surfaces, most evident at the stunning entry of the main building (now the residential lobby), which boasts travertine floors and mahogany paneling.
Hollenbeck Terrace exemplifies how even long-forgotten buildings can be brought back to their former splendor, while adapting to meet the needs of today.