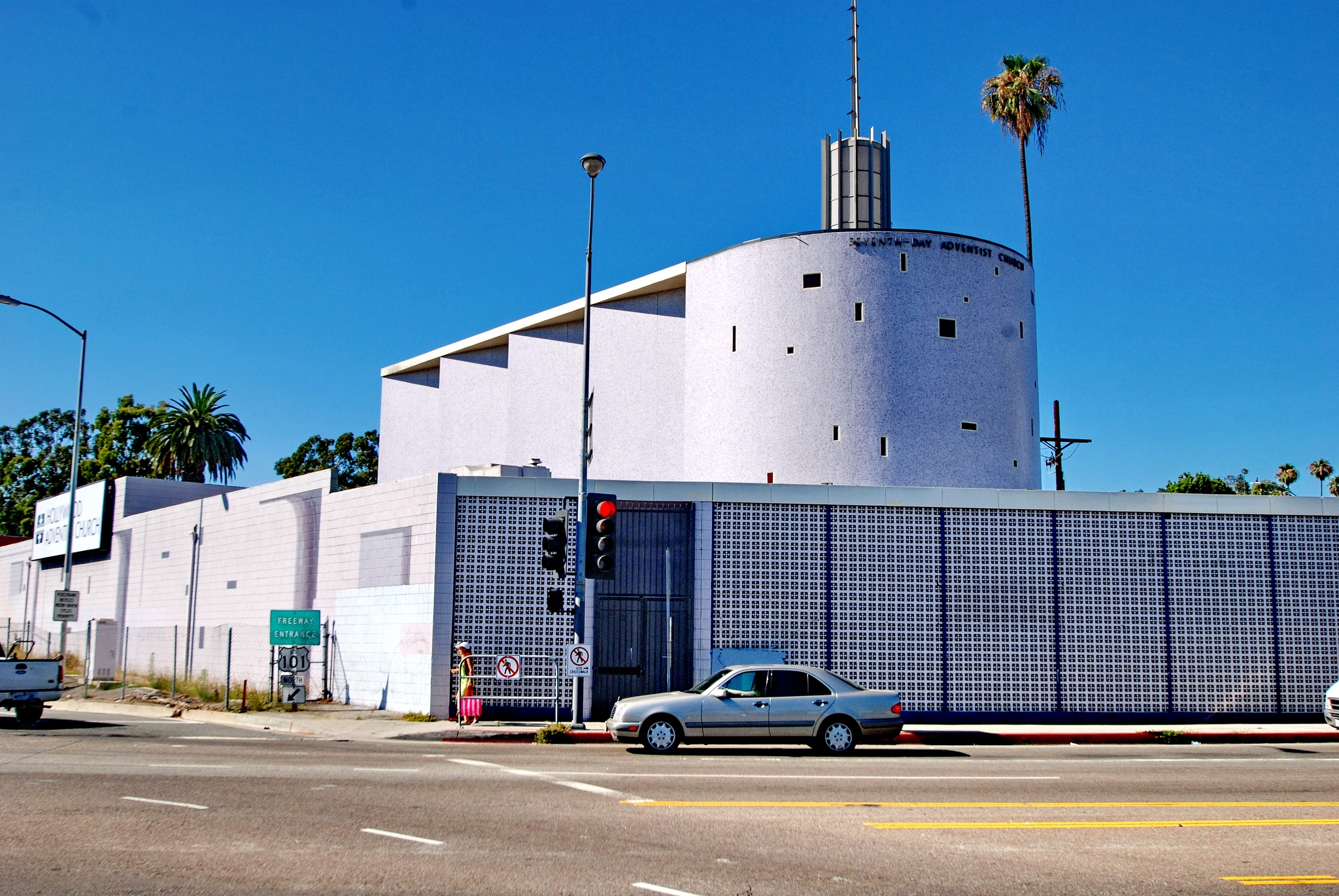 Place
Hollywood Seventh Day Adventist Church
At the corner of Hollywood Boulevard and Van Ness Avenue overlooking the Hollywood Freeway stands this well-known – if rather unusual – landmark.
The Hollywood Seventh Day Adventist Church is a well-known – if rather unusual – landmark standing at the corner of Hollywood Boulevard and Van Ness Avenue, overlooking the Hollywood Freeway. Occupying a large corner parcel, the 1962 church was designed by architect Robert Burman, an Adventist himself and a prolific producer of Modern ecclesiastical designs in Southern California. Its main sanctuary is a curving, looming lavender battlement topped with a giant metal spire, held back from Hollywood Boulevard by a decorative concrete block wall. Some see it as Le Corbusier-inspired, in particular as homage to the famous Franco-Swiss architect's Notre Dame du Haut church in Ronchamp.
The sides of the Adventist church are made of angled walls that look like fins, sweeping back from the curving front façade as it plows ever forward. Burman believed that the concept of grace, or a divine love bestowed from above, was better expressed by curves than by straight lines; by softening corners in his church designs he aimed to create spaces of calm, compassion, and redemption.
The interior of the Hollywood Adventist Church wholly succeeds: light streams in through irregular openings to highlight a rounded apse and other soft, folded planes. The exterior, while unquestionably curving and arguably graceful, is a more controversial proposition. It is beloved by some, who admire its whimsical ship-like shape, glistening glass tile cladding, tall spire, and bravado at its prominent Hollywood Boulevard site. And it is scorned by others, who dislike the awkward parking lot-facing entrance, defensive concrete walls, and tiny window openings (likened to arrow slits in a medieval castle tower). But for many people, its eccentricity adds to its charm – even if it did prompt one unknown critic to call it "God's own gas station."