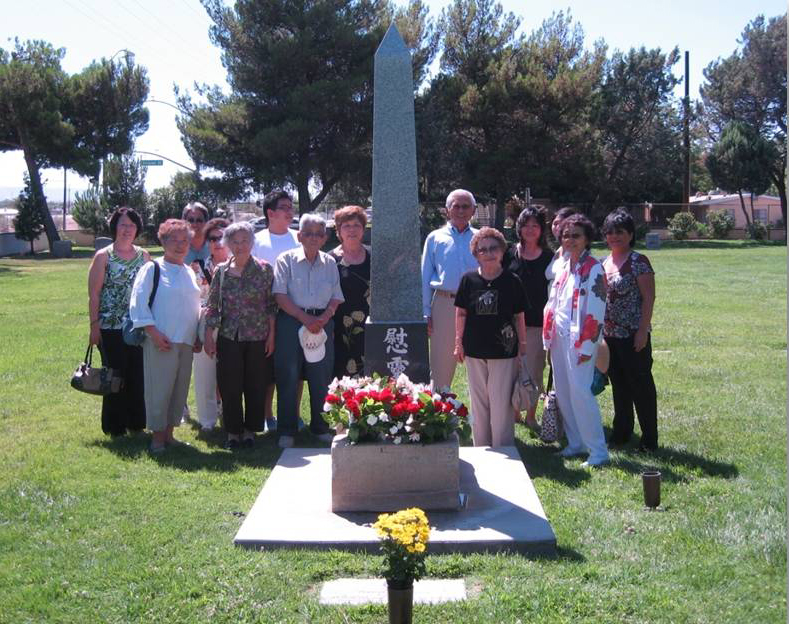 Place
Japanese Pioneer Memorial
This ten-foot memorial featuring a granite obelisk was originally dedicated in 1938 to honor early Japanese settlers of the Antelope Valley.
In the Pioneer Section of Lancaster Cemetery stands a ten-foot memorial to the early Japanese settlers of the Antelope Valley. This elegant monument, featuring a sierra white-granite obelisk, was established by thirteen Japanese families and originally dedicated in 1938. Its intent was to honor the deceased Japanese immigrants who had arrived in the west Antelope Valley in the early twentieth century, most of whom were farmers.
The memorial soon fell victim to anti-Japanese sentiment during World War II.
In mid-1942, most of the Japanese families from the Antelope Valley were taken to an internment camp in Arizona. Soon thereafter, vandals toppled over the monument and broke the obelisk into pieces. Despite attempts by descendants to have the memorial repaired, it remained broken and neglected for sixty-five years.
In July 2007, the new director of historical research at Lancaster Cemetery came across a file labeled " Japanese Monument." She was so moved by the story that she sought out surviving family members, and they all agreed it was time to finally have the monument restored. The nonprofit Friends of the Lancaster Cemetery joined the project, and the group took on the challenge of funding, recreating, and rededicating the memorial. 
Community members pitched in throughout the project, including local seventh-grade students who produced a book on the history of the Japanese American families and enlisted the entire school in making a thousand origami cranes to present to the families as a symbol of peace.
The memorial was rededicated on May 17, 2008 in a ceremony that reunited original families and garnered worldwide press coverage. After nearly seventy years, the people of Lancaster righted a wrong that had been done to their fellow citizens. The reinstatement of this important tribute to unsung heroes of the Antelope Valley won a 2010 Conservancy Preservation Award.