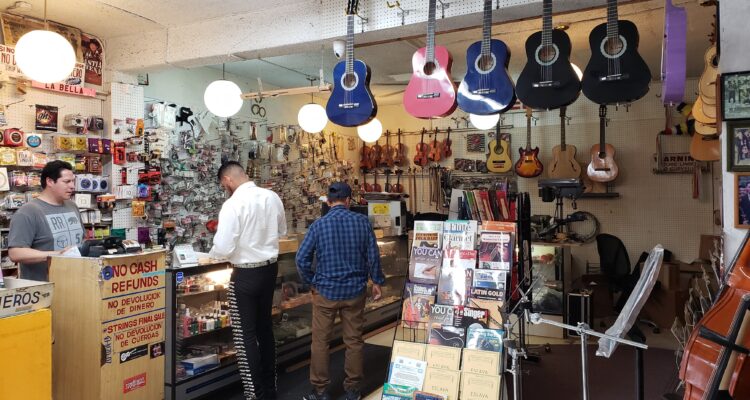 Place
La Casa del Musico
Neighborhood music shop serving the community for over forty years.
La Casa del Musico opened in 1978 not far from where it is located today on East First Street in the Boyle Heights neighborhood of Los Angeles. The neighborhood music shop sells a selection of musical instruments, equipment, song books, and supplies. Its location near Mariachi Plaza is fitting as many of the shop's customers are mariachi musicians who gather nearby, hoping to find work.
Owner Noel Jaramillo's aunt and uncle were La Casa del Musico's first proprietors. At first they sold records, then compact discs. By the 1990s, when the MP3 format was invented and digital music piracy was on the rise, the owners shifted their focus to instruments. Among the instruments the shop carries are guitars for all styles of music, including the Mexican vihuela, a five-stringed instrument, which is tuned an octave higher than a guitar, giving the instrument a higher pitch.  It is typically played in mariachi groups, where it carries the rhythm of the song.   
When asked about the challenges in operating the music shop over the years, Jaramillo points to his competitors: online retail sites, but also, ironically, local mariachi musicians who sell musical instruments to others under the radar. He sees rising rents that displace musicians and other customers who have lived in the neighborhood for many years, as having a detrimental impact on his business, too.
However, Jaramillo has loyal customers, who despite having moved out of the neighborhood by choice or by circumstance, keep returning to the shop. "Music is necessary for the well-being of people," Jaramillo says, while pointing to a wall of pictures that memorializes all the musicians who have come into his shop over the years. "Music is all around us and we should embrace it."