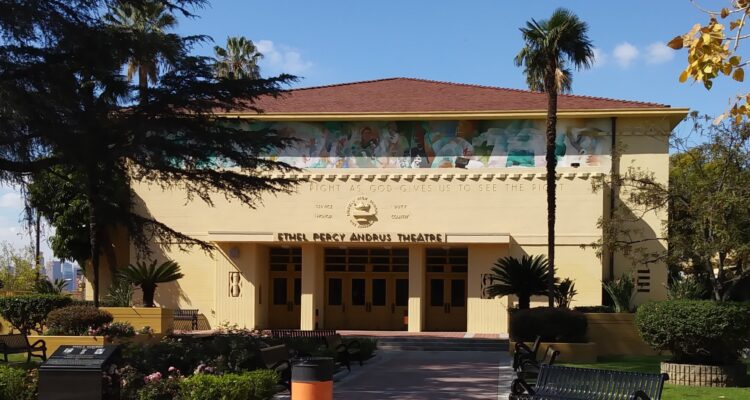 Place
Lincoln High School
Dating to 1937, Lincoln High School also played a key role in the East L.A. Chicano Student Walkouts (Blowouts) of March 1968.
Resolved
In 2021. LAUSD approved a comprehensive modernization project at Lincoln High School will seismically retrofit and modernize several buildings on the historic campus.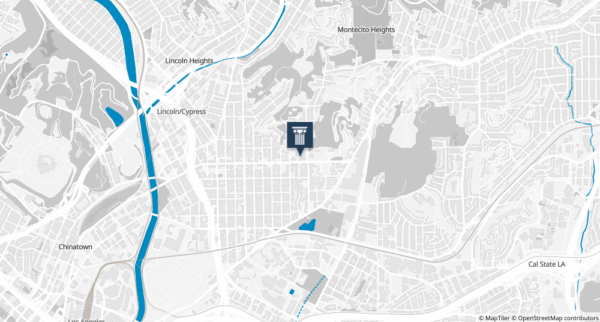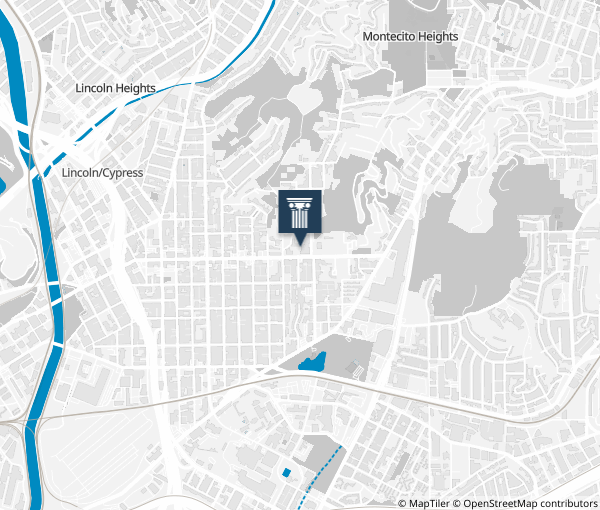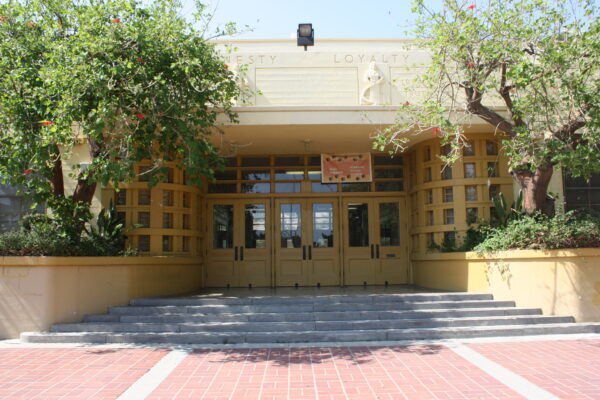 Overview
In 2018, L.A. Unified School District (LAUSD) initiated a modernization project at the historic Abraham Lincoln High School in Lincoln Heights. Concerned about the individual and cumulative loss of historic schools associated with the East L.A. Chicano Student Walkouts (Blowouts), the Conservancy joined the Project Advisory Group for the Lincoln High School Comprehensive Modernization Project and provided input regarding the project's impacts to the historic campus.
About This Place
About This Place
Established in 1913, Lincoln High School is one of the oldest high schools in the district. Following the 1933 Long Beach earthquake, the school was reconstructed in 1937 by A.C. Martin in the PWA Moderne style.
Lincoln High was designed much like a college campus, following the wishes of then-principal Dr. Ethel Percy Andrus. The campus expanded over time, including additions and landscaping by Edward H. Fickett. The gym and athletic facilities are located on an adjacent hilltop property where the original 1913 high school stood. Today, the campus encompasses both properties and is connected by a pedestrian bridge.
Many of the buildings feature New Deal-era artwork created by Manuel de la Torre, Conjecta Troncale, and Maurice Levine. In 1990, Roberto "Tito" Delgado created a mural on the primary façade of the Ethel Percy Andrus Auditorium.
Lincoln High School garnered national attention for the role it, along with four other Los Angeles high schools, played in the East L.A. Chicano Student Walkouts (Blowouts) of March 1968.
Located on a hilltop in Lincoln Heights, Abraham Lincoln High School opened in 1913. The high school was established on the former site of the Avenue 21 intermediate school. Deemed unsafe after the 1933 Long Beach earthquake, the school was reconstructed in 1937 on an adjacent property on North Broadway bounded by Lincoln Park Avenue, North Thomas Avenue, North Altura, and Alta Street, where it sits today.
Among Lincoln High's most notable faculty members is Dr. Ethel Percy Andrus, the first female principal to lead a major urban high school in California. During her time as Lincoln High's principal from 1916-1944, she lowered dropout rates, set high academic standards, and established innovative programs to develop students' character and skills. She pioneered vocational education and opened up the campus to the community. She established the Opportunity School for Adults at Lincoln High, an evening program designed to assist immigrant parents of her pupils, which expanded to a full-time night school where adults could earn a high school diploma.
After twenty-eight years at Lincoln High, Dr. Andrus retired to care for her ailing mother. In 1947 she established the National Retired Teachers Association (NTRA) and later AARP, giving older people a collective voice to advocate for pension reform, affordable health care, financial security, better housing, and an end to age discrimination.
Another prominent faculty member and instrumental leader of the Walkouts is teacher Sal Castro, who arrived at Lincoln High in 1964. He soon observed the need for bilingual education, a more culturally sensitive academic curriculum, and access to college preparatory coursework for Mexican-American students, whom he felt were left behind by the school district.
By January 1968, Castro began encouraging his students to demand improvements in the quality of education in LAUSD's Eastside schools. In addition to mentoring students, he organized community members to support the students' efforts. According to the Los Angeles Times, he was the only teacher to publicly participate and back students' complaints to news media and school district officials. Castro was among the "East L.A. 13" who were arrested, jailed, and later exonerated on felony conspiracy charges for "disturbing the peace" during the Walkouts.
Our Position
The modernization of Lincoln High School is part of a district-wide Facilities Bond program to address critical safety concerns and support the educational programs at LAUSD schools. In 2019, LAUSD proposed its plan to invest $233M to upgrade the historic campus, which included demolition of some classroom buildings, construction of a new classroom building and a Performing Arts Building, and seismic retrofit and modernization of the Administration Building, Home Economics Building, Auditorium, Gymnasium, and pedestrian bridge.
As a member of the Project Advisory Group, the Conservancy provided input regarding the project's impacts to the historic Lincoln High campus, which included concern over the potential loss of character-defining interior spaces in the buildings slated for seismic retrofit and modernization. We also responded to the Initial Study/Mitigated Negative Declaration to advocate for preservation of historic features. The project was approved by LAUSD in January 2021.
The Conservancy has been encouraged by LAUSD's preservation-minded approach to modernization at Lincoln High School and will track the process and progress made on the project, which is scheduled for completion in 2028.
Since 2018, the Conservancy's Education Department has partnered with Lincoln High School to teach students about the history of their campus and neighborhood through the development of student-led walking tours.