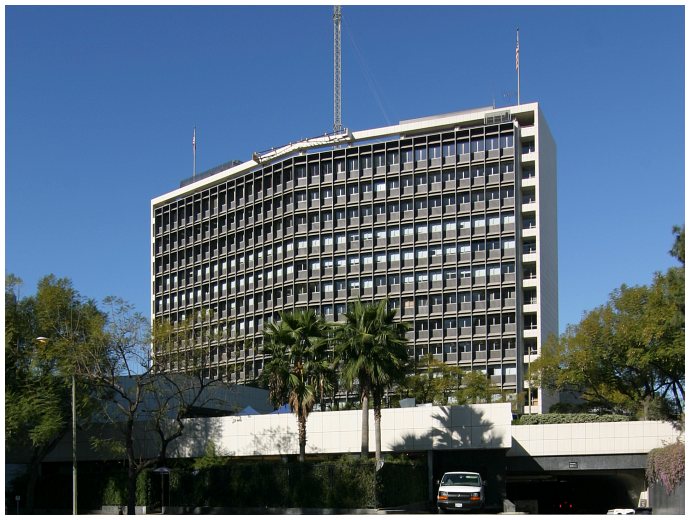 Place
Los Angeles Center Studios
The highest building in downtown Los Angeles upon its completion in 1958, the tower's successful adaptive reuse in 1998 illustrates the potential for new uses of historic buildings.
Upon its 1958 completion, the Union Oil Center added its twelve stories to its already-lofty site at the corner of Fifth and Boylston Streets to become the highest building in downtown Los Angeles.
The headquarters of Union Oil foresaw the ever-higher vertical growth of downtown's office buildings, as well as the horizontal expansion of the city's central business district beyond the grid defined by the 101, 110, and 10 freeways. In this case, Union Oil brought a major industrial office presence to Crown Hill, a neighborhood best known for affordable housing and its 1890s oil boom.
Architects William Pereira and Charles Luckman designed the Miesian-style hexagonal tower as part of a complex including a rectangular inner courtyard, two low tower-adjacent wings, a large subterranean parking garage, and elevated pedestrian bridges connecting to an auditorium and cafeteria building. The tower has distinctive angled front and rear façades covered with a grid of thin aluminum louvers protecting the offices within from the sun.
Once threatened with demolition, in 1998 a group of developers purchased the complex and added six large sound stages to create what would become Los Angeles Center Studios. The successful adaptive reuse of the Union Oil Center, including the "vertical backlot" of its original tower, brightly illustrates the potential for new uses of historic buildings by all kinds of occupants.