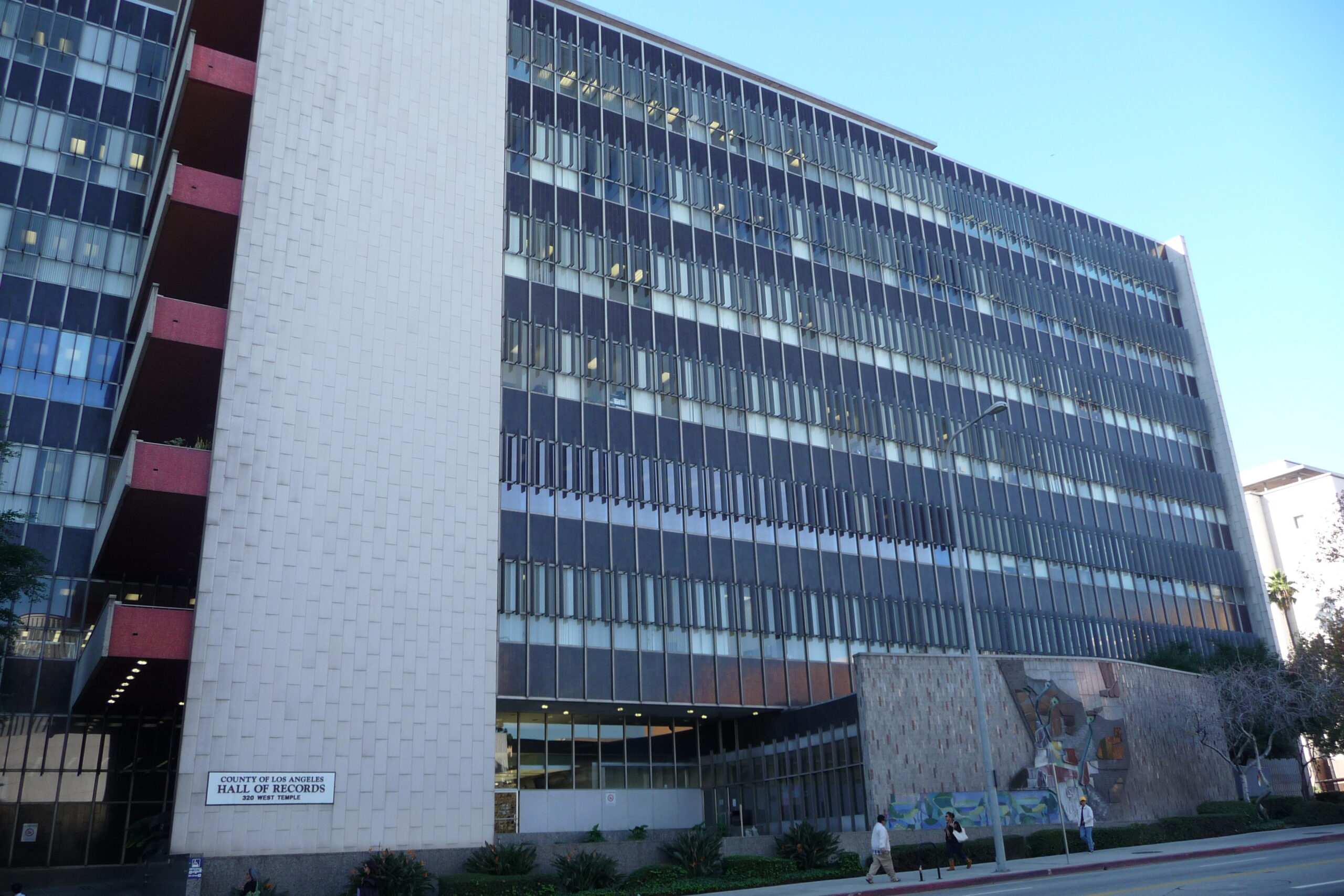 Place
Los Angeles County Hall of Records
A rare example of a Neutra high-rise, this T-shaped wonder projects an elegant sense of bureaucratic diligence, monumental in scale.
The Los Angeles County Hall of Records at the corner of West Temple Street and North Broadway is monumental in scale, projecting a definite sense of bureaucratic diligence in the civic heart of downtown Los Angeles. The T-shaped high-rise features intact marble and wood interiors, long aluminum louvers on the south façade, a massive decorative ceramic screen, a mosaic of glass tile and granite, and tall aluminum "spider legs" outside the roof cafeteria. This last detail is a signature feature of celebrated architect Richard Neutra, who designed the Hall of Records with his associate Robert Alexander.
The 1962 building is a very rare example of a Neutra high-rise, as he is far better known for his extensive residential work. It was originally conceived of as two buildings, one for employees and one for storage records, but was combined into one plan incorporating a windowless storage wing and a carefully planned employee wing. The architects were very concerned with worker well-being and went so far as to consult an ophthalmologist on ideal lighting levels. Today, of course, the windowless wing is as full of workers as the other wing and most records have been moved off site, except for those in the extensive network of subterranean tunnels.
The building's most notable elements are its exterior decorations, which marked a new, less minimalist style of Modernism. Potter Malcolm Leland was largely responsible, as he encouraged Neutra and Alexander to merge art with architecture and collaborated with Gladding-McBean to create the Hall of Records' eight-story screen of extruded terra cotta. Joseph Young's exterior mosaic depicting water sources and geological features of the county, another remarkable embellishment, was recently restored.
Looking to contact the Los Angeles County Hall of Records?
The Conservancy does not own or operate the Los Angeles County Hall of Records. For any requests, please contact the Los Angeles County Hall of Records directly at (213) 974-7401.