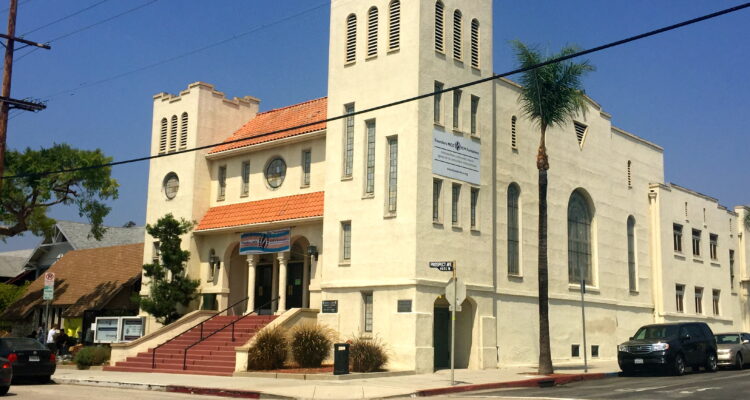 Place
Metropolitan Community Church
The Metropolitan Community Church provided LGBTQ Christians and other religious groups with a safe and inclusive place for worship.
Founded by Reverend Troy Perry in 1968, the Metropolitan Community Church (MCC) is the oldest continuously operating LGBTQ ministry in the world. The MCC has had numerous homes throughout the years and is currently based in this 1920 Romanesque Revival-style building in Los Feliz.
Trained as a Pentecostal minister, Reverend Perry left the church in the early 1960s after parish leadership learned he was gay and excommunicated him. Events in his personal life moved him to return to the ministry in 1968 with the goal of providing a place for LGBTQ individuals to worship freely. 
Reverend Perry first announced the formation of a new church in an advertisement in The Advocate. On October 6, 1968, he held the first service of the Metropolitan Community Church (MCC) in the living room of his Huntington Park home with twelve people in attendance.
Reverend Perry conducted services in his living room for the first six weeks. The size of the congregation steadily grew each week, and by 1969 the church had 150 congregants.
As the ministry grew, the congregation turned to other meeting spaces, including a nearby women's club, theatres, and other churches. In 1971, the MCC dedicated its own church at 2201 South Union Avenue. Beth Chayim Chadashim, the world's first LGBTQ synagogue, also held services in the building. 
As the MCC expanded its outreach across the country, it became a target for arson. Fires were first reported in 1972 and 1973 at churches in San Francisco. In 1973, the MCC headquarters at South Union Avenue and West 22nd Street was destroyed by two separate instances of arson. 
In addition to his ministry, Reverend Perry was an influential figure in the broader LGBTQ civil rights movement. He was a member of the Gay Liberation Front and helped spearhead the world's first pride parade in 1970.
He was also an early proponent of same-sex marriage and performed civil unions for LGBTQ couples beginning in the early 1970s.
Today, the MCC is the largest LGBTQ ministry in the world, with over 172 churches in 37 countries. Founders MCC, which grew out of the original congregation, is now located in the building at 4607 Prospect Avenue.