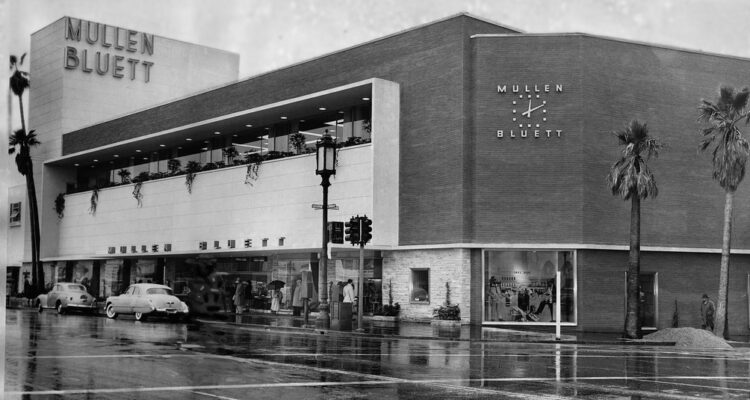 Place
Mullen and Bluett (Demolished)
This postwar clothing store helped make the Miracle Mile a shopper's paradise.
The once-popular Mullen and Bluett clothing store chain had several stores in Los Angeles, all designed by Stiles O. Clements in a distinct style to complement its neighborhood.
The last of these stores rose on the Miracle Mile after World War II in the California style, bringing the outdoors in with welcoming patios, open display windows, and dozens of flagstone planter boxes scattered throughout the store.
Clements designed every detail of the building, inside and out. A façade of Roman brick was balanced with a geometric grid of plasterwork and flagstone, softened by greenery, punctuated by copper-framed windows, and topped with an integrated sign pylon.
Inside, women's and children's clothing were located on the second floor. Assuming that men would not travel as far as the second floor to shop, menswear and a convenient carousel of women's gift items were located on the first floor.
Next door at 5550 Wilshire stood the 1936 Phelps-Terkel department store, designed by Morgan, Walls, and Clements. Together, they helped secure the Miracle Mile's reputation as a shopper's paradise.
Both buildings succumbed over time to insensitive treatment and lack of protection, due largely to the priority placed on preserving the Miracle Mile's Art Deco buildings.
A succession of owners and tenants over the years eventually gutted and subdivided the Mullen and Bluett building, though its façade remained intact. The Los Angeles Conservancy's Modern Committee fought to save both the Mullen and Bluett and Phelps-Terkel building, neither of which was designed in the Art Deco style.
Both buildings were demolished in 2006 and replaced with an enormous apartment complex in a faux Art Deco design.