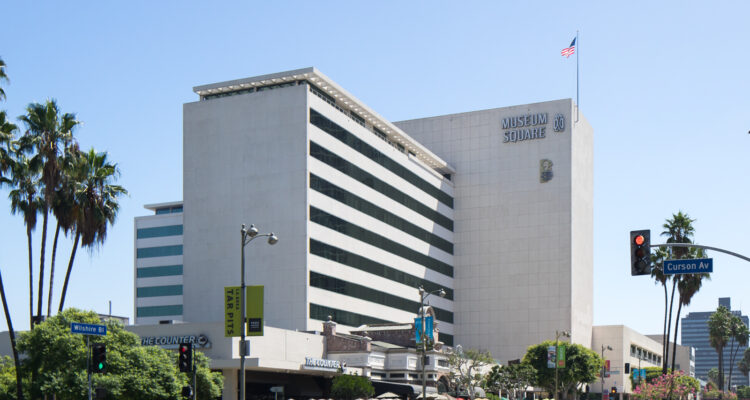 Place
Museum Square
"A symbol of Los Angeles and the western way of life," according to Arts & Architecture magazine.
A 1949 cover story in Arts & Architecture magazine called Prudential Square, "a symbol of Los Angeles and the western way of life."
Designed by the renowned Los Angeles firm of Wurdeman and Becket, this building spanned two city blocks and held 517,000 square feet of office and retail space, making it the tallest and largest privately owned structure in the city when it opened.
The building altered the character of the Miracle Mile from a shopping destination to a white-collar office district. Its International Style design also marked a stylistic change for its architects. 
After Walter Wurdeman's death, Welton Becket continued as Welton Becket and Associates. He designed more than twenty buildings along Wilshire Boulevard and helped shape L.A.'s distinct style of corporate modernism.
The Prudential building is composed of two asymmetrical wings flanking a central, windowless shaft. The shaft contains electrical and mechanical services, which are often underground but were placed above ground here due to the site's proximity to the La Brea Tar Pits.
The building's tower originally held the western headquarters of Prudential Insurance. A portion of the east wing housed Ohrbach's department store until 1965, when the store relocated to another Becket design down the street, the former Seibu Department Store (now the Petersen Automotive Museum).
Prudential eventually left its namesake building, leaving behind a memento in the cornerstone of the main lobby: an actual piece of the Rock of Gibraltar, the company's corporate symbol. The building has been altered over time but still retains its basic shape and form, as well as one unique aspect. At night, it becomes an illuminated negative of itself.