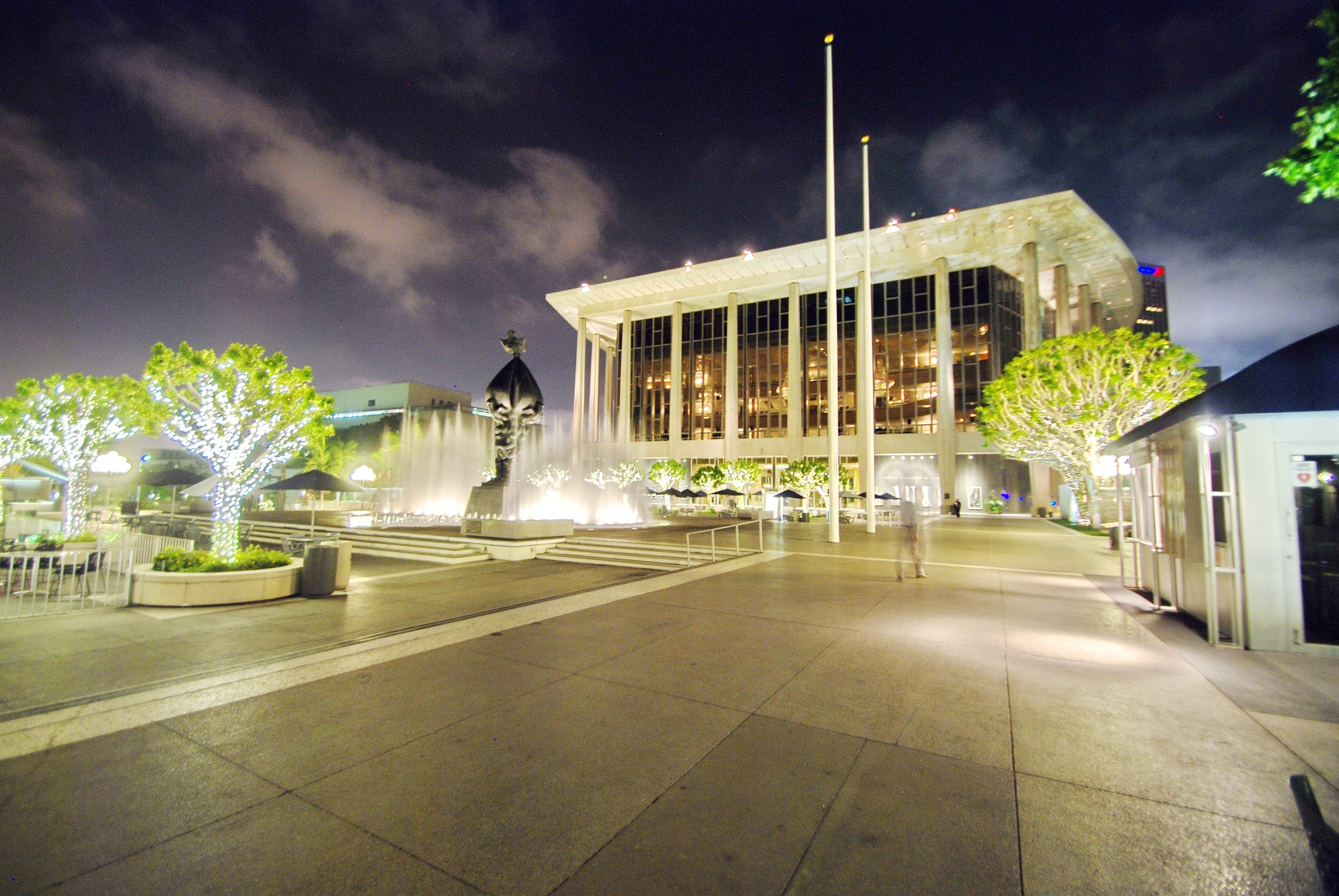 Place
Music Center of Los Angeles County
A Modern masterpiece, reflecting the self-assurance of mid-century Los Angeles as it positioned itself to be The City of Tomorrow.
Standing at the top of Bunker Hill, The Music Center of Los Angeles County is a grand temple of culture in the heart of the city, a unified complex with a landscaped plaza connecting the Dorothy Chandler Pavilion, the Ahmanson Theatre, and the Mark Taper Forum.
Many see The Music Center as the culmination of architect Welton Becket's philosophy of "total design," as his firm Welton Becket and Associates engineered everything from the master plan down to signage typography.
Becket began developing this idea with his partner Walter Wurdeman in the 1940s and continued to espouse it throughout his career, expanding the scope of architectural design in innovative ways. The Music Center's original buildings, all in the New Formalist style, were constructed between 1964 and 1967. Frank Gehry's iconic Walt Disney Concert Hall was added to the Music Center in a long construction campaign ending in 2003, but sits outside the unified 1960s complex.
The first building constructed was the 1964 Dorothy Chandler Pavilion, a massive, curved structure dominating the complex with its stylized columns, overhanging flat roof and glass façade. By far the largest theatre on the property, it housed the Academy Awards for a number of years.
The Ahmanson Theatre and Mark Taper Forum were both constructed in 1967, enclosed within a light, open colonnade that creates a discrete space for this part of the complex. The Ahmanson was originally faced on all four sides with off-white stone, but was altered in 1995 by Ellerbe Becket, the successor firm to Welton Becket and Associates. Today its main façade, which faces into the interior of the complex, is opened up with a glass skin.
The Mark Taper Forum is an unusual drum-like circular building rising from a pool of water in front of the Ahmanson, its walls covered with an abstract low-relief sculptural design. All of the buildings are united by the central sunken plaza, designed by landscape architecture firm Cornell, Bridgers, and Troller in association with Becket. The large ""Peace on Earth"" sculpture by Jacques Lipschitz was added in 1969 in the middle of what was then a shallow reflecting pool, and now contains dancing fountains.
The plaza provides the perfect vantage point for viewing not just the exquisite Modern buildings of the Music Center, but the Los Angeles Civic Center, City Hall, and the new Grand Park. The Music Center is a Modern masterpiece, reflecting the self-assurance of mid-century Los Angeles as it positioned itself to be The City of Tomorrow.