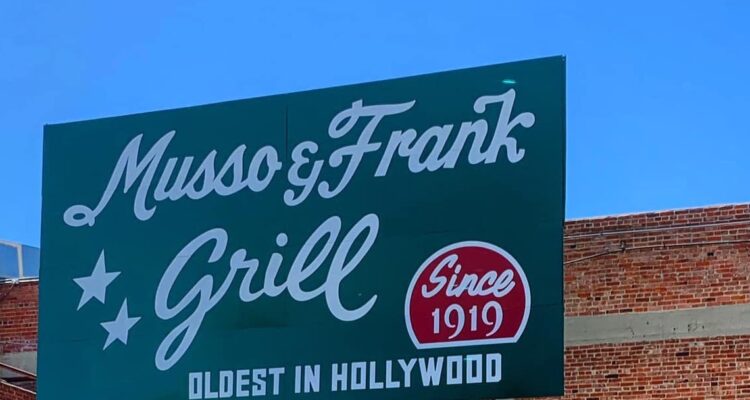 Place
Musso & Frank Grill
Musso & Frank, which recently celebrated its 100th anniversary, is the oldest restaurant in Hollywood.
In 1919, Frank Toulet opened Frank's Café on Hollywood Boulevard. In 1923, Toulet partnered with Joseph Musso and changed the restaurant's name to Musso & Frank. They hired French chef Jean Rue to create the famed menu, which remains mostly unchanged today.
In 1927, the owners sold the restaurant to Joseph Carissimi and John Mosso who moved the restaurant next door to 6667 Hollywood Boulevard, where it remains. By the 1930s, Musso & Frank was firmly established as the center of Hollywood's cultural life, attracting writers, actors, and filmmakers. People in the Hollywood industry made deals on the restaurant's payphone, the first to be installed in Hollywood. F. Scott Fitzgerald was known to proofread his novels while sitting in a booth at the famed restaurant.
In the 1950s, Hollywood legends such as Marilyn Monroe and Elizabeth Taylor could be seen enjoying drinks and appetizers in Musso & Frank's famous Back Room. Today, the restaurant's New Room holds the Back Room's bar, light fixtures, and furniture from 1934. A beloved Hollywood institution, Musso & Frank Grill has been featured extensively in film and television, including LA Weekly's "Musso & Frank Grill: Cheers to Another 100"  and LAist's "The Weird And Wild Flavors Of Musso And Frank's Most Old Timey Dishes."
Musso's is currently owned and operated by John Mosso's three granddaughters and their children. In business for 100 years, Musso & Frank is the oldest restaurant in Hollywood.