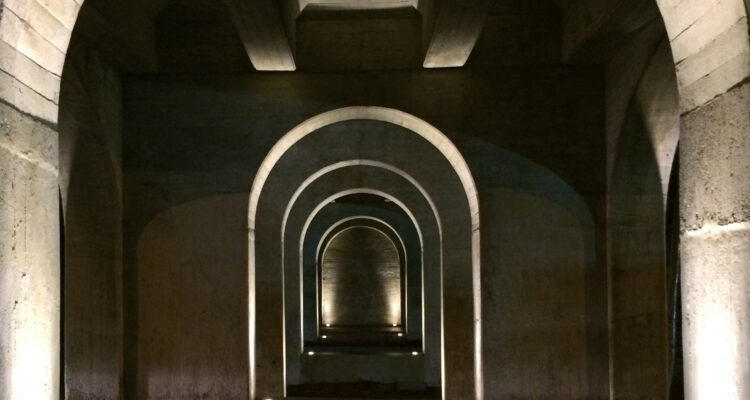 Place
Pacific Electric Railway – El Prado Bridge
This Torrance icon, and signature work of Irving Gill, has reclaimed its Modern elegance.
One of the oldest structures in the City of Torrance, the 1913 Pacific Electric Railway – El Prado Bridge was designed by Irving Gill, a master architect and pioneer in Modernism.
The bridge's graceful form, elegant arches, and concrete surface make it a signature Gill design. Its position on the eastern side of Torrance makes it a highly visible gateway to the city and a longtime source of civic pride.
The Pacific Electric Railway Company built the bridge to serve freight trains passing over tracks used by interurban Red Cars.
It was also a focal point of the original plan for the city's central core, now known as Old Torrance. As the bridge neared its hundredth birthday, it was no longer in active use and needed more than the usual maintenance. It was covered in dense vines, many of which were dead. It sported decades' worth of dull gray paint used to cover graffiti. Wood guardrails had deteriorated, water damage had corroded some of the rebar, and much of the concrete was spalled and cracked (also due to water infiltration).  
The City commissioned a project to repair, stabilize, and preserve the bridge just in time for its centennial. The project team removed all the vines, old paint, and graffiti. They carefully repaired and cleaned the concrete while keeping important evidence of the bridge's history, such as soot from locomotives. They replaced wood guardrails and installed in-ground lighting to showcase the bridge at night. Realizing that the bridge didn't even have an official name, the City worked with the Torrance Historical Society to craft a name that reflected its history, which had been largely forgotten.
This project earned a Conservancy Preservation Award in 2015 for revitalizing an icon of civic identity for the City of Torrance, a signature work of Irving Gill, and a type of historic structure that is often under-appreciated. The project also exemplifies strong civic stewardship and community partnership, while expanding the public's understanding of the meaning and value of preservation. The bridge now has a new life, a new name, and great potential for new uses down the road.