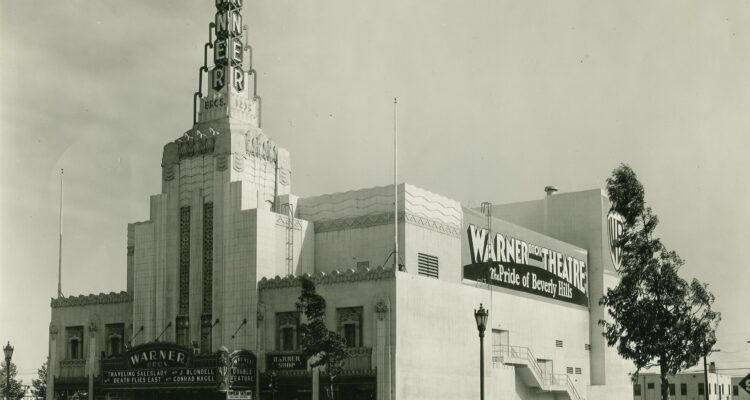 Place
Pacific Theatre (Demolished)
This stunning Art Deco theatre was touted as the "civic pride of Beverly Hills."
In the late 1920s, Jack Warner was issued a challenge by a neighbor to build a "cinema showhouse" befitting the civic life and architectural style of Beverly Hills, the rapidly growing suburb that had closely averted annexation by Los Angeles just a few years before.
With the opening of the Warner Brothers' Beverly Hills Theatre in 1931, he fulfilled his promise to do just that, hanging a banner proclaiming the theatre "the civic pride of Beverly Hills" lest his neighbor not notice.
The stunning Art Deco building, with its soaring, six-story, pylon-topped tower spelling out "Warner," exhibited zigzag moderne along with a fair mix of Spanish baroque ornamentation.
Shaped like a ziggurat, the building included commercial spaces whose expanses of plate glass were divided by pilasters topped with encrusted floral motifs matching the scalloped trim that wrapped the second story. The interior of the theatre was a riot of gilded friezes and starbursts, yet softy lit with bronze, brass, and glass lighting fixtures. The balcony featured a multi-hued domed ceiling.
Through the 1960s, the theatre hosted numerous star-studded premieres. It closed as a first-run theatre in 1975 and was used primarily for special events and concerts until purchased by Columbia Savings and Loan in 1988.
Despite putting forth various plans for the building, Columbia ultimately claimed that retrofitting the building for earthquake safety would be too expensive and demolished it instead.
Barely a newspaper notice was published to mark the loss of this icon to the "civic pride of Beverly Hills." Soon after demolishing the theatre, Columbia became embroiled in a junk bond scandal and was seized by regulators.