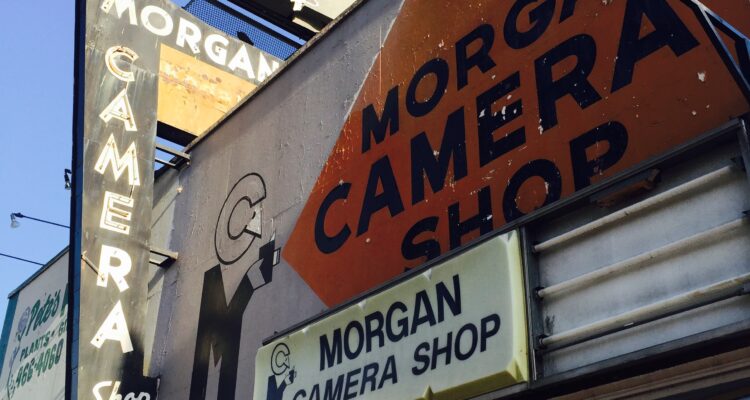 Place
Pete's Flowers/Morgan Camera Shop
Dating to 1938, the Pete's Flowers/Morgan Camera Shop building signifies the importance of signage in early Hollywood.
Though the building that now stands at 6260-62 Sunset Boulevard was completed in 1938, Morgan Camera Shop is believed to have first opened its doors at 6305 Sunset in the early 1930s. The 1938 building initially functioned as a photographic salon, although it also operated as a retail and repair shop. 
Gilbert Morgan, a pioneer in the miniature camera field, owned the store in the heart of the Hollywood entertainment industry with his brother, Willard D. Morgan, who was instrumental in bringing the 35mm camera to the United States. Morgan & Morgan Press published the work of a number of key artists and photographers, including Ansel Adams. Willard Morgan was also a close friend of Richard Neutra and documented much of the architect's work in Los Angeles. 
Though the design of the two-story vernacular building has been attributed to Modernist architect Rudolph Schindler, the original permit lists Marshall P. Wilkinson as the architect. Wilkinson was known primarily for his residential work in Los Angeles. 
The building's distinctive signage appears to have been heavily influenced by the Bauhaus School, which taught the unification of art, craft, and technology. It reveals the important role that commercial signage played in Hollywood's development, juxtaposing materials, icons, and scales to attract passing motorists. 
Historically, Morgan Camera Shop has occupied the western storefront (6262 Sunset), while Pete's Flowers has occupied the eastern storefront (6260 Sunset). Pete's Flowers is also believed to have opened in the late 1930s and bills itself as the oldest survivng flower shop in Hollywood.