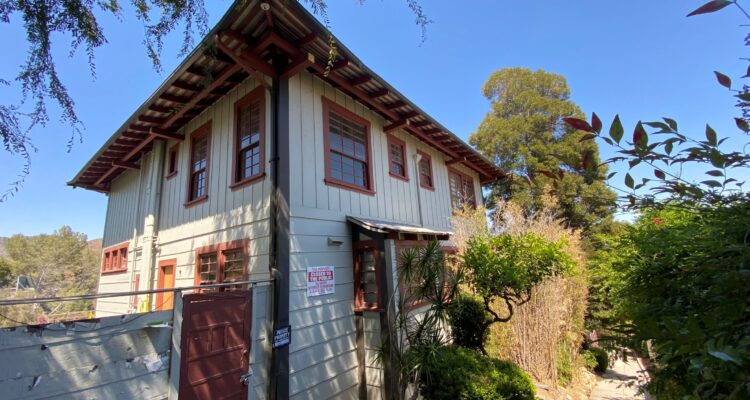 Place
Philip Ahn/Kurt Cobain Residence
This 1921 Craftsman style residence with Japanese influences in Hollywood Heights was once home to actor Philip Ahn and later musicians Kurt Cobain and Courtney Love.
Lost
In 2022, the Cultural Heritage Commission denied recommending the Historic-Cultural Monument listing of the Philip Ahn/Kurt Cobain Residence.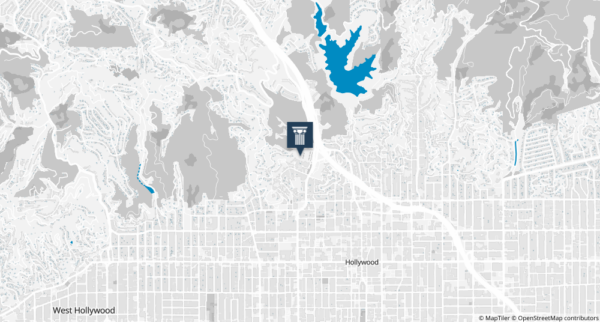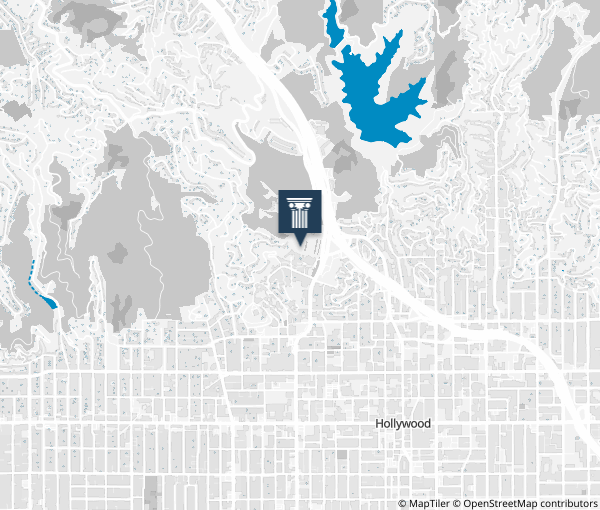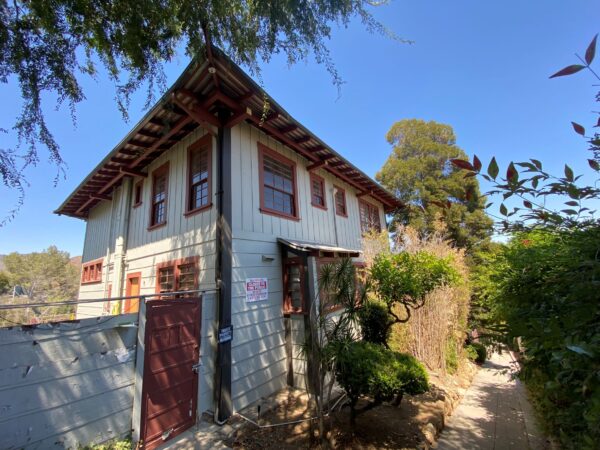 Overview
Located on a ridge overlooking the Hollywood Bowl, 6877-6881 Alta Loma Terrace is one of the oldest houses in the High Tower area in the Hollywood Heights neighborhood of Los Angeles. The residence is a rare hillside example of the Craftsman style with Japanese influences.
This property tells the story of a pioneering Asian American actor who rose to fame during a time when opportunities were limited due to racial discrimination in the film and television industry. It was also briefly home to Kurt Cobain and Courtney Love, who begun writing landmark 1990s albums during their time in the house.
In 2022, the Cultural Heritage Commission voted to deny recommending the Historic-Cultural Monument listing of the Philip Ahn/Kurt Cobain Residence. While the house is currently still standing, the current owner has stated he intends to demolish the house to build a new residence on this site.
About This Place
About This Place
In 2015, SurveyLA identified 6877-6881 Alta Loma Terrace as an excellent and rare example of a Craftsman style home with Japanese influences, and unique hillside example of streetcar residential development in Hollywood, associated with the original 1920s Alta Loma development.
In 2018, SurveyLA's Korean Americans in Los Angeles Historic Context Statement found the property eligible for local landmark designation for its association with notable tenant, actor Philip Ahn. In addition to his acting career, Philip Ahn was a successful restaurateur and leader in the Korean American and broader community in Los Angeles.
The residence was also home to Kurt Cobain and Courtney Love. It was here that Cobain reportedly began working on most of Nirvana's final studio album, In Utero, and Love began writing Hole's second studio album, Live Through This.
Philip Ahn's acting career began in 1936. Several years earlier, as Philip Ahn related in a 1967 Los Angeles Times article, he drove his high school friend, Chinese American actor Anna May Wong to the studio in her car since she had not learned how to drive. She was working on "The Thief of Bagdad" (1924), a film with Douglas Fairbanks. According to the later account, Fairbanks saw Ahn waiting in the car and insisted he do a screen test. Ahn remembers, "I'll never forget that day…Still wearing my make-up, I proudly came home to tell mother the great news. 'No son of mine is going to get mixed up with those awful people,' she shouted. I wasn't allowed out the house for the next three days." Philip Ahn went on to have 270 acting credits, working steadily from the late 1930s, appearing in several films, and later, television shows, each year. During this period, he played primarily supporting roles in highly successful films, including "The General Died at Dawn" (1936), "The Big Hangover" (1953), "The Left Hand of God" (1955) and "Battle Hymn" (1957).
The Motion Picture Production Code of 1930 prohibited miscegenation between White and Black characters, though in practice, this also applied to other ethnic minorities. Given the limits on presenting interracial couples in movies, Ahn landed his first leading role in 1937 opposite Anna May Wong in "Daughter of Shanghai." The pair would reunite in "King of Chinatown" in 1939. Through his acting roles, Ahn became a very recognizable figure. Many of the film production studios used his image on their promotional movie posters. Philip Ahn also appeared in television shows, most notably co-starring as Master Kan on the show "Kung Fu" from 1972-1975.
Philip Ahn's relegation primarily to supporting roles is illustrative of the film industry's long history of institutional racism. One manifestation of that racism includes casting Caucasian actors in lead roles in "yellowface" to portray characters of Asian ancestry, a tradition dating to early forms of minstrelsy when Caucasian actors would change their skin tone and appearance through makeup, prosthetics, or costumery to appear Asian. In many instances, these yellowface characters reinforced negative stereotypes of Asians. For example, Peter Lorre was cast as the lead in the 1937 film, "Think Fast, Mr. Moto," one of Philip Ahn's early films. The converse was never true; actors of Asian ancestry, including Philip Ahn, were never cast in non-Asian roles. Toward the end of his life, in 1976, Philip Ahn was part of a protest of over 100 Asian American actors. As quoted in the Los Angeles Times, he commented that "An Irishman can play an Italian or a Frenchman can play an American…Suddenly…after working 40 years in the industry, I find I am only allowed to play Korean (roles)."
Philip Ahn was posthumously awarded a star on the Hollywood Walk of Fame in 1984, among the first of only a small number of Asian Americans in history to have received the honor. An article appearing in the Los Angeles Times announcing his star described him as "one of the most famous Asian actors in the history of motion pictures." Not only was Ahn a pioneer in film and television, but he was a successful restaurateur and leader in the Korean American and broader community in Los Angeles.
Rock musicians Kurt Cobain and Courtney Love rented 6877-6881 Alta Loma Terrace for about a year, beginning in late 1992 and ending in 1993 when they moved to East Seattle. Both musicians are known to have begun writing landmark 1990s albums during this time. Also in 1992 while living at the subject property, Love gave birth to their daughter, Frances Bean Cobain. Cobain died by suicide at age 27 in 1994. As noted in a 2004 article in the Los Angeles Times, "Cobain's shadow over music remains remarkably large, considering that Nirvana enjoyed only three years in the national spotlight." Cobain was posthumously inducted into the Rock and Roll Hall of Fame in 2014 for his role in Nirvana, alongside fellow bandmates Dave Grohl and Krist Novoselic
Our Position
Though this nomination will not move forward, and the house may be demolished, the Conservancy remains committed to recognize and protect culturally significant places throughout the city and county. This decision illustrates some of the challenges with building support for places with layered histories.