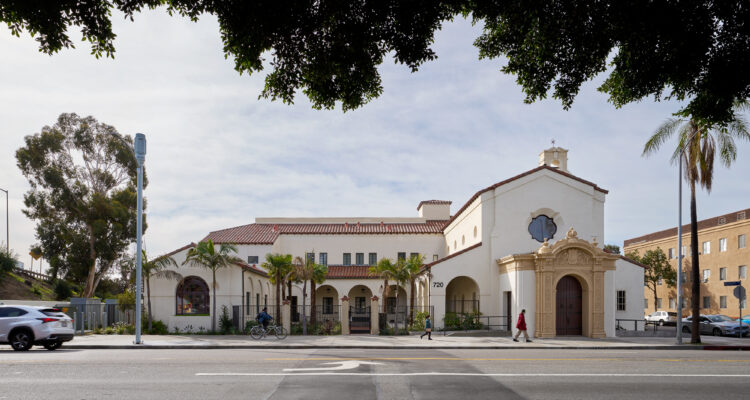 Place
Pierce Brothers Mortuary
The first full-service funeral home built in Los Angeles, this property has been a designated Historic-Cultural Monument (HCM) since 1993.
Saved
After severe fire damage, this Historic-Cultural Monument was adaptively reused to provide affordable senior housing.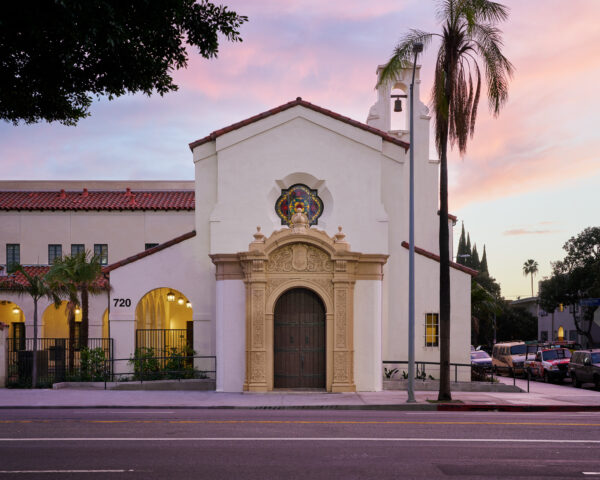 Overview
The Pierce Brothers Mortuary was the first full-service funeral home built in Los Angeles. Located in the University Park Historic Preservation Overlay Zone (HPOZ), the mortuary has been a prominent fixture of the neighborhood for decades.
After a series of fires in the vacant building, the L.A. Conservancy and  West Adams Heritage Association (WAHA) intervened to help assess the condition of the building and offer recommendations for stabilization. The historic mortuary was adaptively reused and paired with new construction that provides affordable senior housing.
About This Place
About This Place
Built in 1923, the Pierce Brothers Mortuary was designated as a Historic-Cultural Monument in 1993. The Pierce family played a pioneering role in the local undertaking business for decades.
The mortuary was designed by noted local architecture firm Meyer & Holler, who was responsible for the architectural design, engineering, decorating and construction. The Spanish Colonial Revival style structure features Spanish Baroque influences, including the elaborate Churrigueresque arched entrance facing Washington Boulevard.
In recent years, the property stopped operating as a mortuary and housed multiple churches. An affordable housing project to be known as Washington View Apartments was proposed for the site in 2015, but no work had begun when the building was severely damaged in a number of fires in 2018.
Our Position
Following the fires, the Conservancy encouraged the property owner and the Department of Building and Safety to consider alternatives to demolition and brought in a structural engineer to advise on preservation options. The resulting project preserved and adaptively reuse the historic mortuary and added new infill development to provide 122 units of affordable senior housing.
We applaud the Washington View Apartments for embracing a win-win solution that preserved the building and added new affordable housing.