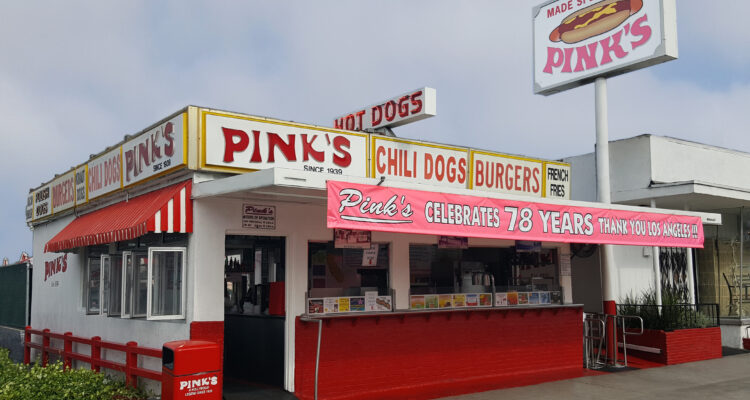 Place
Pink's Hot Dogs
A Hollywood legend since 1939
In 1939, Betty and Paul Pink borrowed $50 from Betty's mom to buy a hot dog pushcart. They opened Pink's at 709 North La Brea about fifty feet from the corner of La Brea and Melrose. Hot dogs sold for ten cents and cokes for a nickel! Back then, the property was unpaved and there was no electricity on site. To power up, they ran an extension cord from a hardware store just down the alley to their hot dog cart. 
The property owner raised their rent from $15 to $25 a month in 1941. The Pinks couldn't afford the increase so they went to a nearby bank for a loan. Though they had no collateral, the branch manager liked their enthusiasm (and their hot dogs) and agreed to loan them $4000 to purchase the property. For the next five years, the Pinks continued to sell hot dogs from their original hot dog cart. In time, they made improvements to the property. In 1946, a cousin of Betty's who was a contractor, agreed to build them a new hot dog stand building, which remains today. It included a grill for burgers and a dining room for patrons. In 1948, to help make ends meet, the Pinks opened another business next door to their hot dog stand business, a flower shop which they named Pink's La Brea Melrose Flowers. The flower shop was later converted into a men's clothing store named Paul Pink Casuals, which operated until 1961.
In 1985, Betty and Paul Pink's daughter-in-law Gloria Pink joined the business. Today, Pink's menu includes 40 varieties of hot dogs and 12 varieties of burgers. Second-generation owner Richard Pink counts excellent hot dogs and chili, unique over the counter walk-up service, longtime staff, fun atmosphere for families, and generations of memories being made among important contributing elements to Pink's success during its 80+ years in business.  
In 2019, the Los Angeles City Council designated the corner of La Brea and Melrose as Pink's Square.