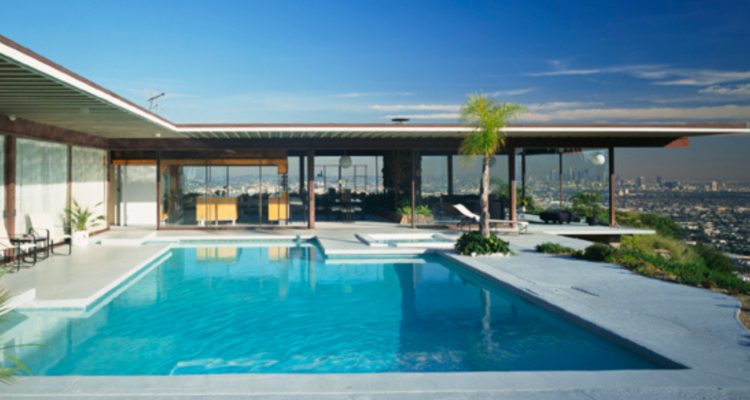 Place
Stahl House (Case Study House #22)
Immortalized by photographer Julius Shulman, the Stahl House epitomized the ideal of modern living in postwar Los Angeles.
Based on a recent approval by the City of Los Angeles for a new residence at the base of the hillside and below the historic Stahl House, this action now places this Modernist icon at risk. The hillside is especially fragile as it is prone to slides and susceptible to destabilization. This condition will be exacerbated as this proposed new residence is planned to cut into the hillside and erect large retaining walls.
The proposed project received approval despite opposition and documentation submitted that substantiates the problem and potential harm to the Stahl House. An appeal has been filed and the City is reviewing this now. No date has been set yet for when this might come back to the City Planning Commission.
To demonstrate your support for the Stahl House and to ensure the appeal is granted (sending the proposed project back for review), please sign on to the Save the Stahl House campaign.
---
Who hasn't seen the iconic image of architect Pierre Koenig's Stahl House (Case Study House #22), dramatically soaring over the Los Angeles basin? Built in 1960 as part of the Case Study House program, it is one of the best-known houses of mid-century Los Angeles.
The program was created in 1945 by John Entenza, editor of the groundbreaking magazine Arts & Architecture. Its mission was to shape and form postwar living through replicable building techniques that used modern industrial materials. With its glass-and-steel construction, the Stahl House remains one of the most famous examples of the program's principles and aesthetics.
Original owners Buck and Carlotta Stahl found a perfect partner in Koenig, who was the only architect to see the precarious site as an advantage rather than an impediment. The soaring effect was achieved using dramatic roof overhangs and the largest pieces of commercially available glass at the time.
The enduring fame of the Stahl House can be partly attributed to renowned architectural photographer Julius Shulman, who captured nearly a century of growth and development in Southern California but was best-known for conveying the Modern architecture and optimistic lifestyle of postwar Los Angeles. Shulman's most iconic photo perfectly conveys the drama of the Stahl House at twilight: two women casually recline in the glowing living room as it hovers over the sparkling metropolis below.
Looking to contact the Stahl House?
The Conservancy does not own or operate the Stahl House. For any requests, please contact the Stahl House directly at (208) 429-1058.