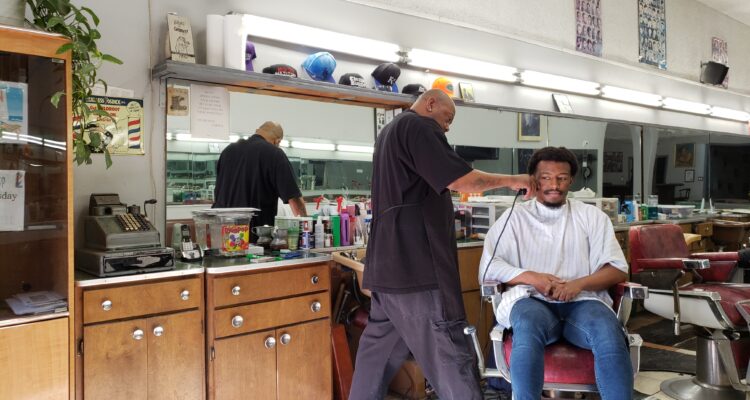 Place
StylesVille Barbershop & Beauty Salon
Opened in 1957, StylesVille remains the oldest black-owned barbershop in the San Fernando Valley.
StylesVille is the oldest black-owned barbershop in the San Fernando Valley. Freddie and Ollie Carter opened the long-time Pacoima business in 1957, across the street from its current location. At the time, the San Fernando Valley was mostly segregated.
Like many African American barbershops throughout the nation, StylesVille is an integral part of the community it serves. Fred Carruthers, a longtime barber at StylesVille said, "Black folks do some of their best communicating while getting their hair cut, we're just comfortable here. We talk about anything and everything."
In 1977, the Carters purchased the barbershop's current location, which had previously held a bar. They renovated the interior to accommodate the barbershop. In keeping with state regulations calling for gender segregation, they built a partition and created one side for women and one for men. Although regulations now allow for mixed-gender salons, the barbershop remains partitioned.
For decades, the barbershop served people from the community, including those who have moved away but return to get their hair cut and styled. The Carters' notable clientele include former USC football player Anthony Davis and jazz musician Billy Eckstine, who would travel to the Pacoima barbershop from Encino to get his hair cut. In the late 1990s, when both Freddie and Ollie Carter retired, Nella and Gregory, their daughter and grandson took over the barbershop.
The barbershop is currently operated by a third-generation family member, Greg Carter Faucett, who began cutting hair when he was 10 years old.
In 2017, the Los Angeles Daily News featured the barbershop on its 60 year anniversary, "Styles Ville Barber Shop, oldest black-owned business in Pacoima, celebrates 60 years."