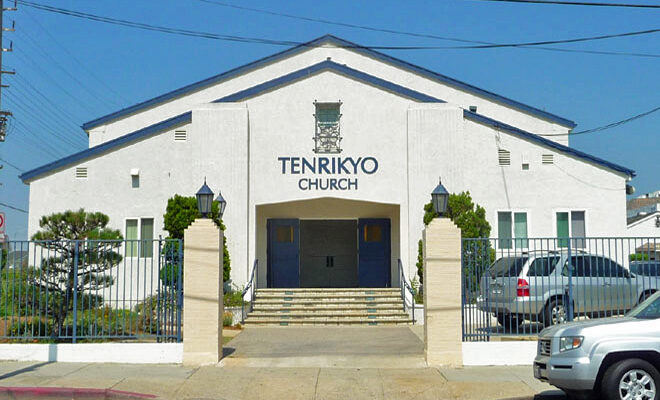 Place
Tenrikyo Church
Tenrikyo Church is one of a small number of traditionally Japanese churches remaining in Boyle Heights today.
Established in 1934, Tenrikyo Church was a spiritual center of the then-large Japanese and Japanese American community in Boyle Heights.
Tenrikyo, a Shinto-based religion, dates to the nineteenth-century teachings of a Japanese woman, Nakayama Miki. The church was originally located on Cummings Street, near Hollenbeck Park, and it moved to First Street before 1940. 
During World War II and the subsequent forced relocation of much of Boyle Heights' Japanese American community, an African American church rented the space. Tenrikyo Church resumed operations following the war and offered community members returning from internment camps a temporary place to stay.
The Boyle Heights location continues to serve as the central administrative entity to all Tenrikyo Churches throughout the United States and Canada. The religion has over two million followers worldwide. Though the Japanese American community has largely moved out of Boyle Heights, the church remains an important cultural touchstone. 
In 1964, the church established a Judo program that was instumental in making the Japanese martial art an Olympic sport. The dojo, housed in a post-and-beam structure, now boasts a long roster of national and international competitors.
Tenrikyo Church has hosted numerous cultural events throughout its history, showcasing the work of local Japanese American artists and performers. Each year, it participates in the Nisei Week Festival, a Los Angeles tradition that dates back to 1940.