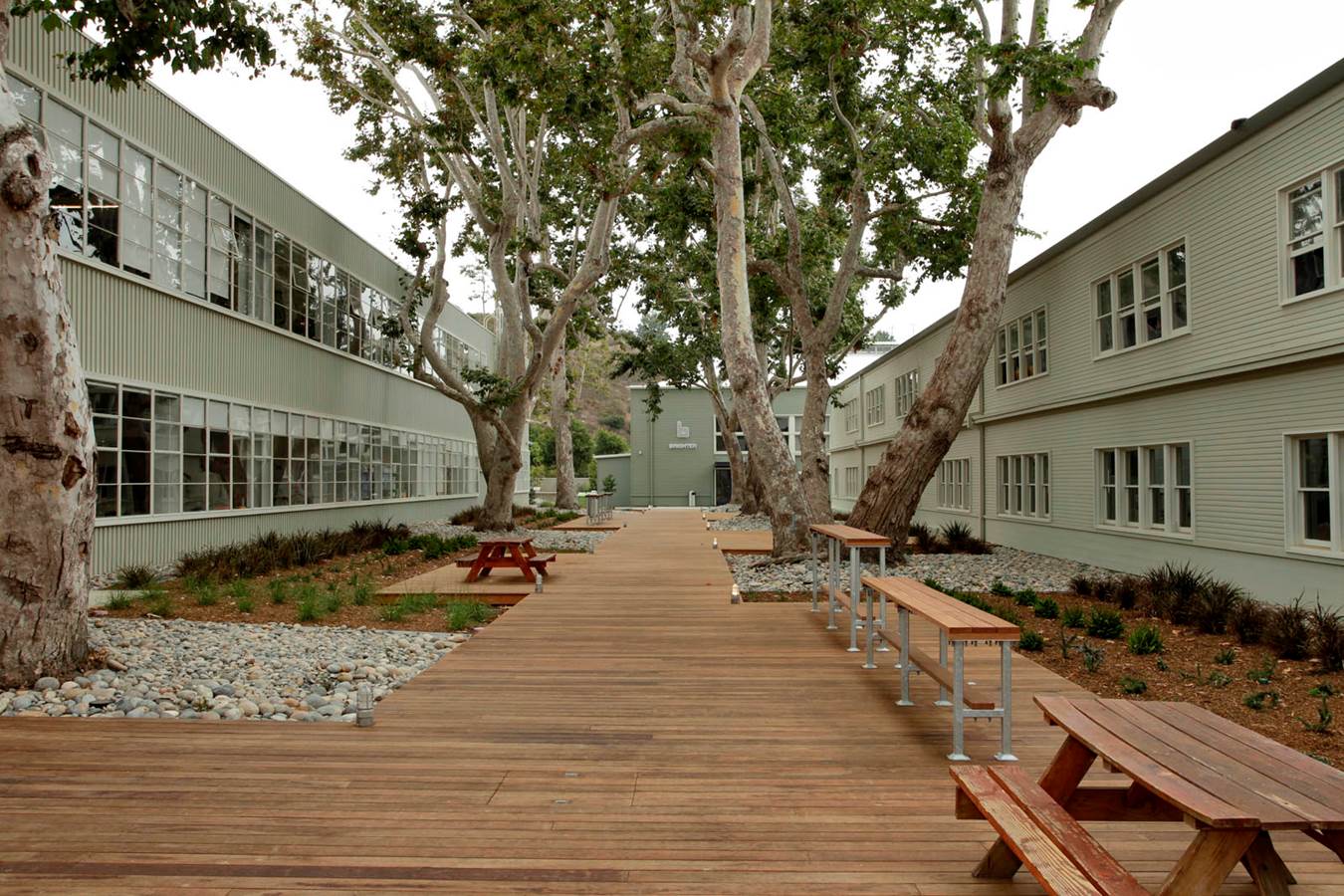 Place
The Hercules Campus
A visionary adaptive reuse project transformed a languishing industrial complex with a legendary past into a creative media campus, all while preserving the unique character of this important piece of aviation history.
Unlike most businesses, Hughes Aircraft Company (HAC) did not originate as a money-making enterprise. It was formed as part of billionaire industrialist Howard Hughes' privately owned Hughes Tool Company to track expenses related to his aviation interests.
Passionate about airplanes, ambitious and daring as a pilot, Hughes brought together a small group of hand-picked engineers, mechanics, and pilots in the early 1930s to design planes to go faster than ever before.
Innovations in aerodynamics, engineering, and communications by Hughes and his team led to setting multiple speed records and brought him to fame.
In addition to being a brilliant aviator, Hughes was a determined entrepreneur. With the likelihood of U.S. involvement in World War II, Hughes sought to expand HAC into the lucrative market for wartime airplanes and defense systems.
Needing more laboratory and production space, the company moved to a site just south of Culver City, which was undeveloped land at the time. The first building on the site housed operations for the development of the D-2 prototype fighter plane, and for production of aircraft parts and armaments.
One of HAC's most prominent projects came from this time with the construction of the legendary H-4 "Hercules" (popularly known as the Flying Boat, or, to Hughes' disdain, the "Spruce Goose). Over two hundred feet long, with a wingspan of 320 feet, the H-4 still holds the record as the largest airplane ever to fly.
Hughes' continued investment in avionics and communications systems rendered HAC indispensable to the U.S. Air Force during the Korean War. The workforce grew exponentially, and a flurry of construction took place to accommodate the company's success. Multiple buildings were constructed at this time (1950-1952), and everything was painted a particular shade of light green that came to be known as "Hughes Green."
After Howard Hughes' death in 1976, HAC was sold and operations gradually moved away from the Culver City location. Most of the historic buildings stood empty, and some were demolished.
In October 2010, The Ratkovich Company (TRC) purchased the twenty-eight acres containing the remaining historic buildings and launched an ambitious project to transform the site into an office and production campus for creative media, named in honor of the great H-4 "Hercules."
The work to preserve the historic buildings earned a Conservancy Preservation Award in 2014.