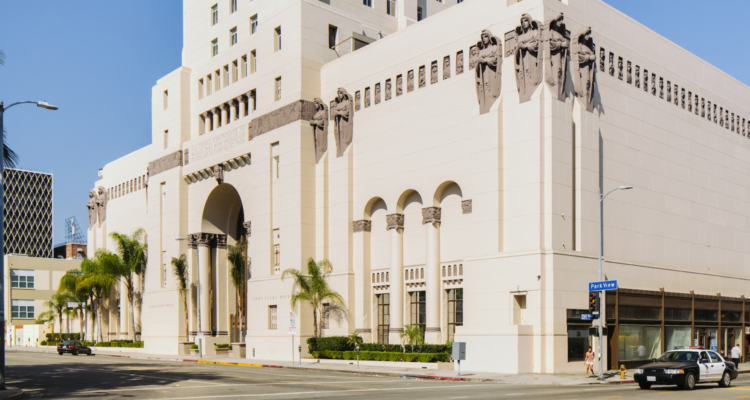 Place
The MacArthur
Sculptural sentries stand guard atop this MacArthur Park landmark.
Rising eleven stories above Westlake Park, this grand concrete structure was a private retreat for the Benevolent and Protective Order of Elks, which once numbered thousands and included L.A.'s wealthy and powerful. The building contained 169 hotel rooms along with a gymnasium, pool, and bowling alley. 
Designed as a memorial to World War I soldiers, the exterior features stylized Assyrian friezes, sculpted figures in military uniform, and massive cast stone warrior angels guarding the plinth and tower at every corner.
The lavish interior features an arched ceiling painted by famed muralist Anthony Heinsbergen, who purposely undercut the competition bidding for the job and toiled on his back while painting, like Michelangelo. Heinsbergen later claimed that he rarely bothered with self-promotion again.
The rich and famous who attended Lodge parties or masonic rights all saw his handiwork and requested Heinsbergen murals for their homes and businesses across Los Angeles. Below these murals hangs an ornate chandelier depicting Zodiac signs, and symbolic wrought ironwork surrounds the grand entrance.
The Elks sold the lodge in the 1960s as its membership diminished. The building has served as a YMCA, a retirement hotel, a venue for punk rock bands, and the Park Plaza Hotel. Its recently refurbished ballrooms, halls, and enormous foyer make it one of the most filmed locations in Los Angeles.