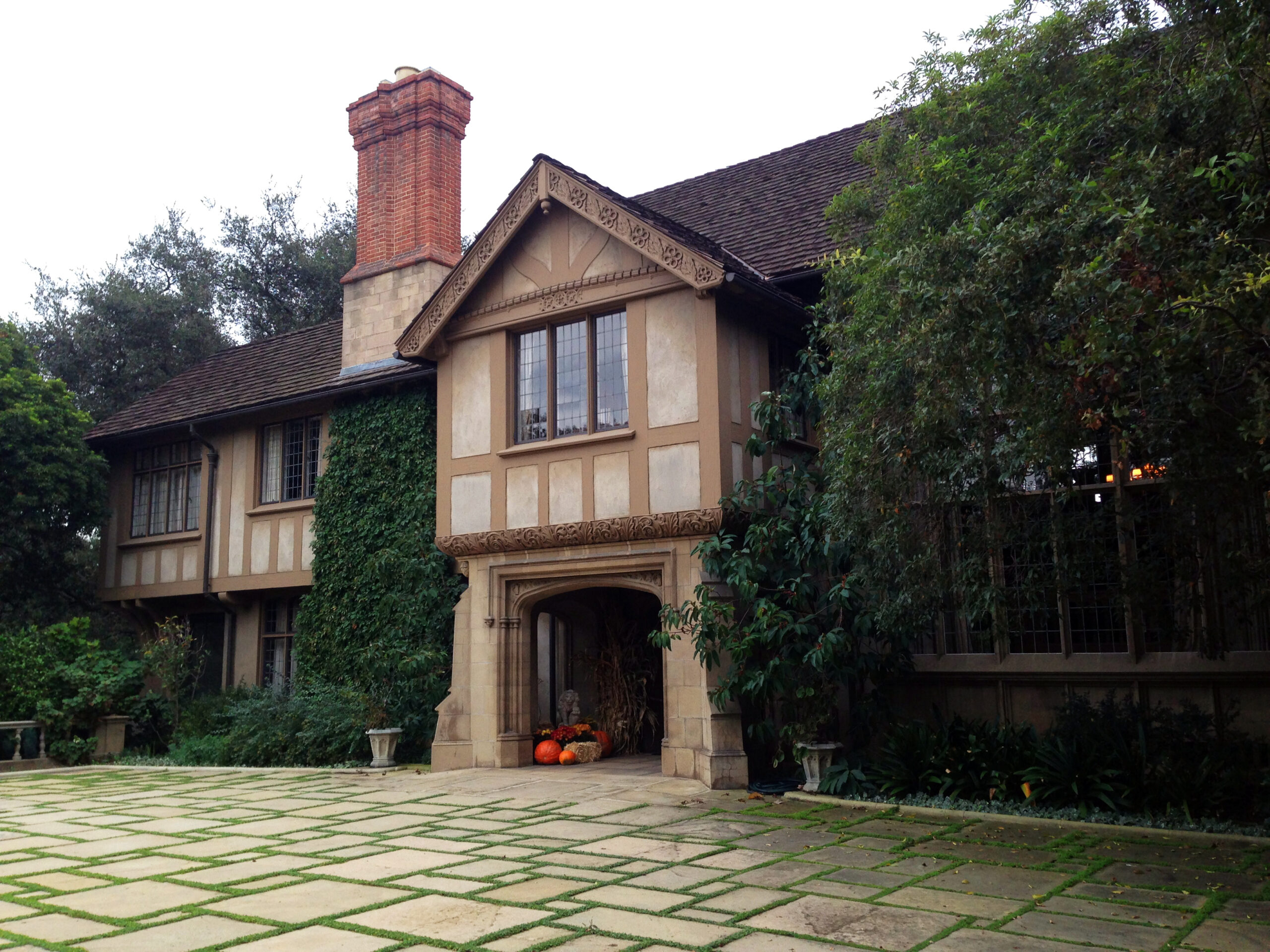 Place
Thornton Gardens
This San Marino estate has a storied history and long-term protection through a Conservancy easement.
Thornton Gardens, known originally as the Katherine Sinclair Emery Estate, has at its center a distinguished, high-style Tudor Revival residence surrounded by approximately nine acres of land.
Katherine Sinclair Emery commissioned prominent local architect Myron Hunt to design this "smaller" house for her in 1920 following the death of her husband Frank Whitney Emery. Emery was heir to a tobacco fortune and considered one of the wealthiest men in Southern California.  
Hunt, in partnership with architect Elmer Grey, had designed the Emerys' previous San Marino residence, as well as the nearby Henry Huntington estate (now The Huntington Library, Art Collections, and Botanical Gardens).
The two-story, 11,700-square-foot house is clad in stucco with decorative half-timbering. It features multi-paned leaded-glass windows, several elaborate brick chimneys, and foliated ornamental accents.
The open entry hall anchored by the grand staircase reflects traditional English halls. Other interior features include oak paneled walls, richly carved wood and stonework, and decorative plasterwork. 
Hunt was well known for designing buildings and sites to complement each other.
The architect often worked with Florence Yoch and Lucile Council, leading landscape architects of the period. Yoch and Council, along with landscape architect Katherine Bashford, designed the landscape associated with the main house.
The landscape includes expansive lawns, a prominent motor court, a rear terrace, and a reflecting pool and rose garden on axis on either side of the house. 
In the 1940s, Colonel J. G. Boswell and his wife, Ruth Chandler Williamson (daughter of Los Angeles Times publisher Harry Chandler), owned the property. Over time, parts of the property were subdivided and sold, but Ruth Chandler Williamson resided at the house until her death in 1987.
Since then, the current owner has restored the house and reacquired much of the land that was part of the original estate.
The Conservancy holds an easement that protects the exterior façade and interior features of the main house as well as the associated historic landscape, five principal outbuildings, and the master plan for the site. 
In January 2018, the National Trust for Historic Preservation announced the acquisition of Thornton Gardens. The current owners will maintain the estate as their private residence during their lifetimes. In the future, the site is slated for co-stewardship by the National Trust and The Huntington, with potential use as a residence for The Huntington's president and visiting scholars.
This is a private residence. Please respect the homeowners' privacy and do not disturb the occupants or property.