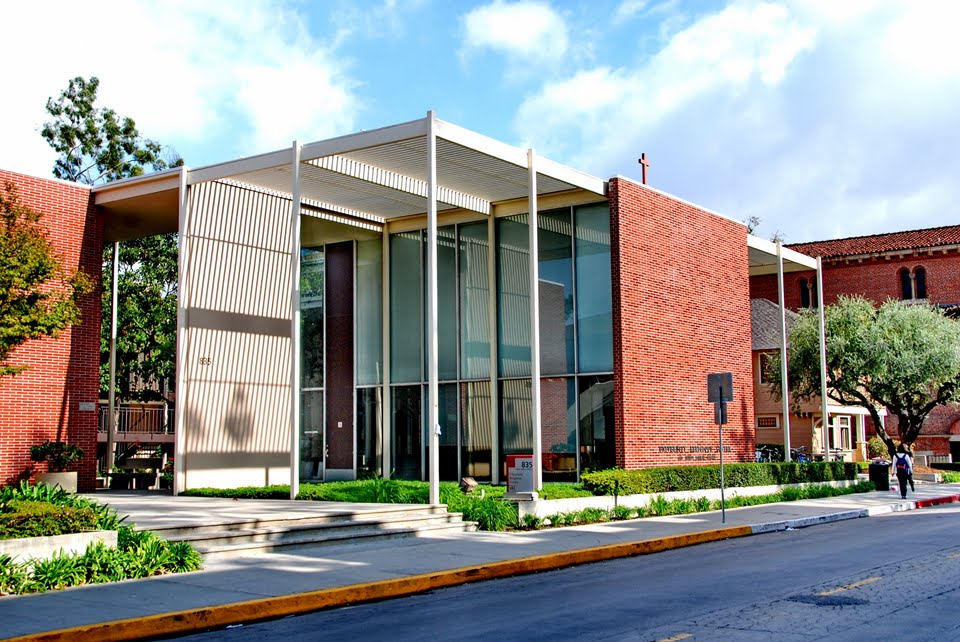 Place
USC University Religious Center
The University Religious Center draws from the post-and-beam tradition with an exposed steel structural system, floor-to-ceiling windows, and prevailing geometric forms.
Completed in 1965, the University Religious Center at the University of Southern California (USC) was designed by the noted firm of Killingsworth, Brady and Associates.
The firm also designed the Watt Hall of Architecture and Fine Arts (1973) on the USC campus. Edward Killingsworth graduated from the USC School of Architecture in 1940 and went on to become one of Los Angeles' finest architects of the postwar era.
The University Religious Center is Mid-Century Modern in style, with International Style influences. The post-and-beam building is exceptionally simple in its detailing. Thin, attenuated proportions in posts and walls accentuate lightness and verticality, leading the eye upward.
The building is clad in brick and cement plaster and has fully glazed, floor-to-ceiling metal frame and glass curtain walls. The building includes office space, meeting rooms, and a freestanding worship center.
Character-defining features include asymmetrical rectangular massing, post-and-beam steel tube structure, brick and cement plaster cladding, lack of exterior ornamentation, floor-to-ceiling glazed window walls, floating stairs, and flat roof.
This excellent example of Mid-Century Modern/International Style campus architecture is an intact contributor to William Pereira's 1960 Campus Master Plan.
The building has a high level of integrity, as well as a clear and direct association with the patterns of educational and architectural development of the University.