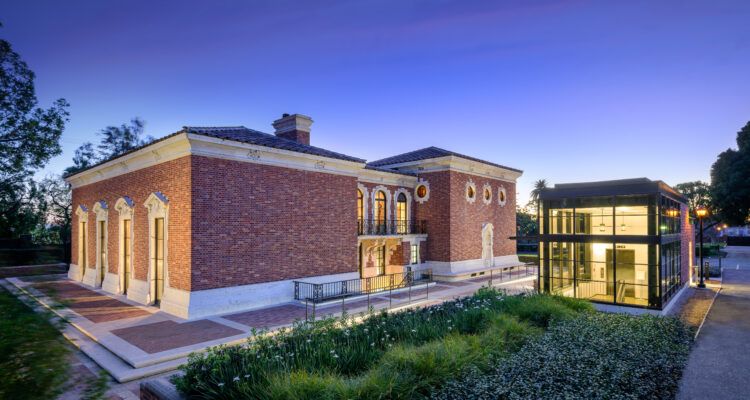 Place
William Andrews Clark Memorial Library
This creative design solution to a historic library proves that preservation and modernization can coexist.
Occupying an entire city block in West Adams, the William Andrews Clark Library, constructed in 1926, continues to serve scholars well into the 21st century.
Designed by architect Robert Farquhar for philanthropist William Andrews Clark, Jr., the Beaux Arts-style building houses one of the world's most renowned collections of rare books and manuscripts. Eligible for listing in the National Register of Historic Places, the library was designated a Los Angeles Historic-Cultural Monument in October 1964.
After decades of serving the public, the library had received only two alterations (the addition of an underground annex in 1950, and an expansion of the annex in 1966) until a major, multi-year renovation began in 2015.
While largely intact, the library posed a major safety issue due to its antiquated entry system. Visitors would enter through narrow travertine stairs and into a crowded catalog room. Not only did the building pose a threat in the event of an emergency, but it was virtually inaccessible to people with physical disabilities. Additionally, the structure lacked seismic reinforcement, putting it at risk of major damage in the event of an earthquake.
The project team seismically retrofitted the building. The insertion of rods through the roof invisibly stabilized the structure, keeping the library's original appearance intact. The team also meticulously cleaned and restored original elements such as the library's painted ceilings.
To solve the accessibility issue, the team constructed a new entry pavilion with interior stairs and an elevator. The pavilion features an orientation room, expanded offices and storage spaces, and an ADA-compliant, gender-inclusive restroom. Its design, while contemporary, compliments the historic library without overshadowing it. The team also took great care to position the pavilion in an inconspicuous area.
Amazingly, the original brick maker who supplied the bricks for the historic library is still in business today. They were able to produce bricks for the new pavilion sourcing from the original clay mines, giving the new construction a strong connection to the original.
This creative and sensitive project proves that preservation and modernization can coexist. Congratulations to the dedicated project team, who earned a 2019 Conservancy Preservation Award!