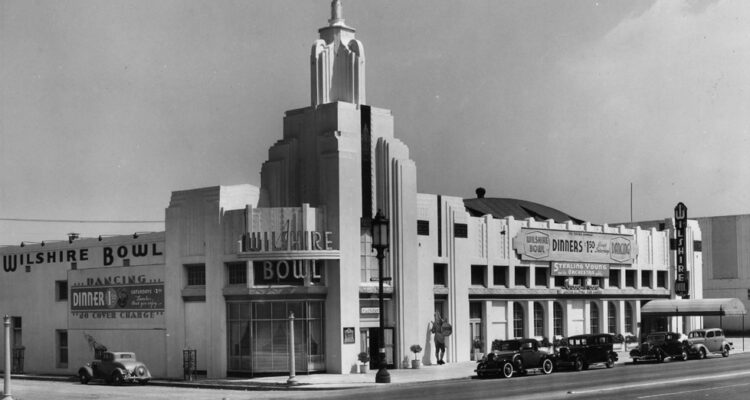 Place
Wilshire Bowl/Slapsy Maxie's (Demolished)
Countless Angelenos enjoyed dinner and dancing at this site, which had three incarnations of nightclubs.
This site originally housed the petite Art Deco tower of the Wilshire Bowl, a nightclub that offered dinner and dancing to the big-band sounds of Phil Harris' orchestra for the flat rate of $1.50 ($2 on Saturdays).
The building later changed owners and became Slapsy Maxie's, then the Mardi Gras, both nightclubs.
It was eventually demolished to make way for the sleek lines of the modern Van de Kamp's coffee shop designed by Welton Becket and Associates, whose offices were next door at 5657 Wilshire.
The large coffee shop was designed to serve 13,000 individuals a day and beckoned to Wilshire motorists with a bright canopy, glass walls, and pair of huge Van de Kamp's windmills attached to an integrated sign pylon.
The structure was eventually demolished, and an office supply store now occupies the site.