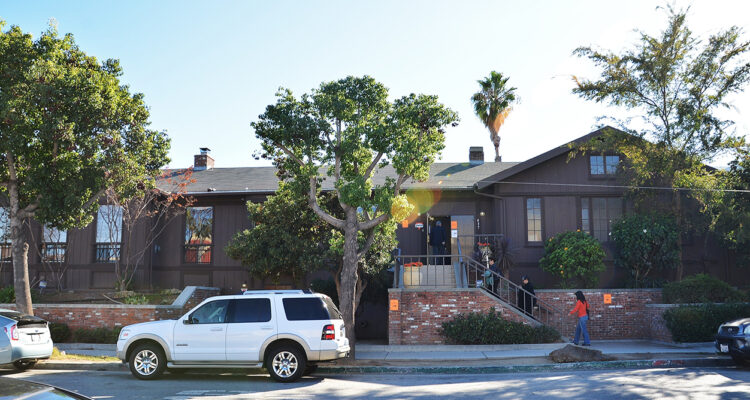 Place
YWCA Harbor Area & South Bay
Julia Morgan, the first woman licensed as an architect in California, designed this historic YWCA building in 1918.
The 1918 Julia Morgan-designed YWCA of the Harbor Area and South Bay is a Craftsman-like clubhouse in a residential neighborhood near the harbor in San Pedro. The unassuming board-and-batten structure differs dramatically from Morgan's most iconic commission, Hearst Castle. These two projects demonstrate Morgan's chameleon-like ability to suit the style of her buildings to the needs and budgets of each individual client.
Julia Morgan had already designed several YWCA-related projects when she was brought in to design the San Pedro facility. At a meeting in January 1918, she was given the recommenda­tions from the report which called for "a club and recreation center to compete successfully with public dances, mo­tion pictures shows, and streets filled with men in uniform; housing with fa­cilities for laundry and cooking break­fast; and rooms for 20 girls [to] provide for the acute emergency."
A swimming pool was a key part of the recommenda­tions, as it offered a recreational outlet to young women not available else­where in San Pedro. A budget of $5,000 for land, $12,000 for the building, and $2,500 for furnishings was established at the meeting.
The Hospitality Center, as it was originally known, opened in late October, less than a month before the armistice ending World War I. The fin­ished building had housing for twelve girls, as well as an indoor swimming pool, recreational space, and kitchen and laundry facilities.
As the needs of the facility changed over the years, the YWCA made a number of modifications to the building. In 1927, the indoor pool was covered over and converted into a recreation space with a small stage. The six small rooms originally used for girls to keep their personal belongings have since been turned into offices and storage. A commu­nal sleeping porch at the rear of the building was later enclosed and is now a child care center. Exterior access to the basement was created in 1954 by excavating and reconfiguring the front landscape. Designed for laundry and bathing facilities, the basement is now used as retail space.
The YWCA of the Harbor Area and South Bay, despite many modi­fications over the years, retains the comfort and charm of Julia Morgan's original design. After more than nine­ty years of continuous use by the YWCA, the building still provides services to women in the community as originally intended.