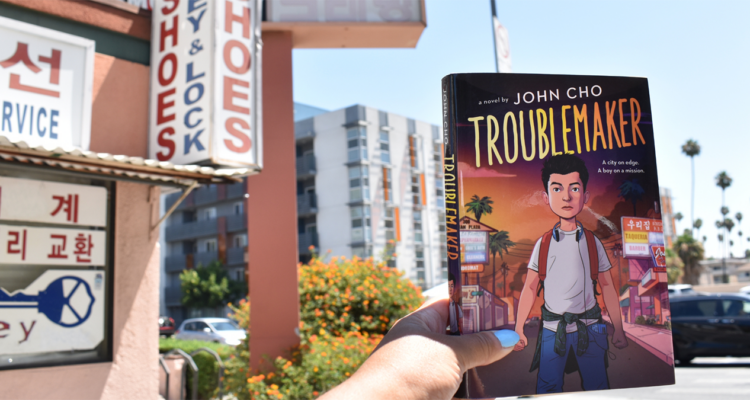 2022 People + Places Book List for Kids
Launched in 2020, the Conservancy's "People + Places" book lists celebrate stories about people, events, and diverse communities in L.A. and beyond! Curated for students of all ages, our book lists include diverse stories about exploring communities in Los Angeles. Each book recommendation is accompanied by a reading guide to help facilitate discussion and foster critical thinking in students.
2022 Edition
We are grateful to the Young Adult Librarians from the Los Angeles Public Library's Teen'Scape department who helped curate this year's teen list and to members of the Southland Council of Teachers of English and L.A. Conservancy Volunteers who designed reading guides to accompany the books.
Elementary School (Ages 6+)

Crown: An Ode to the Fresh Cut
Written by Derrick Barnes
Reading Guide
Read about what it means to feel good, look good, and be treated like royalty after leaving the barbershop, an important place for the Black community and culture.
Hey, Wall: A Story of Art and Community 
Written by Susan Verde
Reading Guide
A blank wall in a bustling community is untouched until a young boy decides to change that with the help of friends through art.
How Cities Work 
Written by James Gulliver Hancock and Jen Feroze
Reading Guide
An interactive and illustrative book that explores how cities are created.
Kiyoshi's Walk – Check out our Storytime video!
Written by Mark Karlins
Reading Guide
Learn about the beauty of haikus through the lens of a young boy and his grandfather, who are inspired by their community and nature to express themselves.
Why We Live Where We Live 
Written by Kira Vermond
Reading Guide
Examine the history of communities, from nomadic hunting and farming to the rise of cities following the industrial revolution.
Middle School (Ages 11+)
The Epic Fail of Arturo Zamora
Written by Pablo Cartaya
Reading Guide
Follow Arturo Zamora as he attempts to save his family's restaurant (a legacy business) and local town from land developers while juggling his life as a young teen.
I Am Alive in Los Angeles
Written by Mike the Poet
Reading Guide
A collection of poems comprising images, tones, and raw beauty of Los Angeles through the intricate lenses of Los Angeles poet, Mike Sonksen.
Troublemaker
Written by John Cho
Reading Guide
Follow 12-year-old Jordan as he navigates school and family as a Korean-American during the height of the 1992 Los Angeles Uprising.
High School (Ages 14+)

Boyle Heights: How a Los Angeles Neighborhood Became the Future of American Democracy (Volume 59)
Written by George J. Sanchez
Reading Guide
Understand how the diverse community of Boyle Heights, a neighborhood in Eastside Los Angeles, evolved over time through the experiences of residents including Native Angelenos, Spanish colonizers, and Japanese Americans who were incarcerated during World War II.
From Little Tokyo, With Love
Written by Sarah Kuhn
Reading Guide
A modern fairy tale of family, cultural identity, and community set in L.A.'s Little Tokyo neighborhood.
Playing Till We Have to Go: A Jewish Childhood in Inner-city L.A.
Written by Larry Derfner
Reading Guide
A descriptive memoir about the relationships between African American and Jewish community members who lived, played and fought concurrently in 1960s Los Angeles.
The Silver Blonde
Written by Elizabeth Ross
Reading Guide
Take a journey through the Golden Age of Hollywood in 1946 and a post-World War II L.A. in this murder mystery novel.
Major funding for the Los Angeles Conservancy's educational programs is provided by the LaFetra Foundation and the Kenneth T. and Eileen L. Norris Foundation.