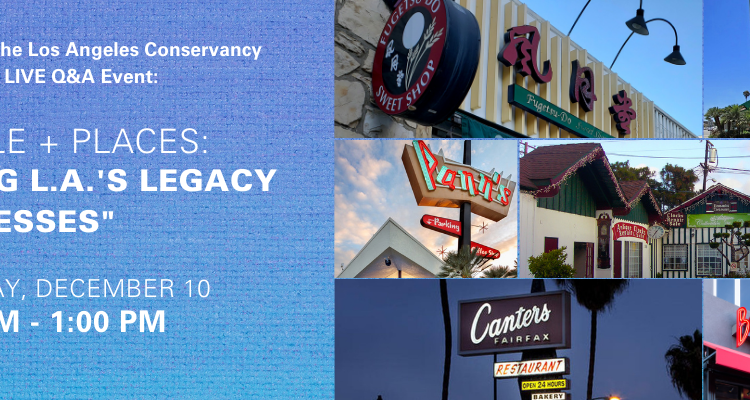 People + Places: Saving L.A.'s Legacy Businesses
On Thursday, December 10 at 12 p.m. join us for a Zoom conversation about Legacy Businesses and hear how the cities of San Francisco and San Antonio have created official programs, branding, and financial incentives to help support legacy business owners.
Register here now for this free event  »
We are very pleased to do this program in partnership with the Los Angeles City Planning's Office of Historic Resources, LA Commons and the USC Race, Arts, and Place collaborative.
An increasing number of longtime small businesses in Los Angeles are at risk due to soaring rents, increased development pressures, lack of succession plans, and now the coronavirus COVID-19 pandemic. The combination of these factors has left many longtime small businesses in Los Angeles with reduced revenues and uncertainty about the future. The loss of longtime small business also raises questions of equity, leaving business owners without a means of income, and residents and neighborhoods without access to essential goods and services.
Why save Legacy Businesses?
The impact and loss of a legacy business is also an issue of equity and access, as many of these businesses provide essential employment and critical services to a diverse range of neighborhoods and residents throughout Los Angeles. In a variety of ways, these businesses serve as a stabilizing factor and help maintain neighborhood vitality.
While some businesses have benefitted from government grants and loans, such as the City of L.A.'s Alfresco Program and community-led fundraising efforts, these temporary programs cannot meet the continuing need that faces our small business community. Increasingly it has been demonstrated, both in the last few years and in recent months, a need to intervene and help support Los Angeles' longtime small business owners, especially now in this time of critical need.
Representatives from the cities of San Francisco and San Antonio will be taking part in this Zoom conversation where we will learn more about their programs. This will be an opportunity to participate, ask questions, and learn how you can help advance a similar program for the city of Los Angeles.
This discussion will be moderated by the Conservancy's Director of Advocacy, Adrian Scott Fine.
Joining us for the conversation are Mike Buhler from San Francisco and Shanon Shea Miller from San Antonio!
Mike Buhler was recently named President & CEO of Fort Mason Center for Arts & Culture in San Francisco, commencing January 2021. For the past ten years, he led San Francisco Heritage, a historic preservation nonprofit organization dedicated to preserving and enhancing San Francisco's unique architectural and cultural identity. Established in 1971, Heritage's mission has evolved from an early focus on architecture to include recent efforts to sustain the city's intangible cultural heritage, including its 2014 report "Sustaining San Francisco's Living History: Strategies for Conserving Cultural Heritage Assets." In 2015, Heritage co-authored city legislation to establish the first official Legacy Business Registry in the country. 
Shanon Shea Miller, AICP, became the City's Historic Preservation Officer and Director of the Office of Historic Preservation (OHP) in November 2008. Under Shanon's leadership, OHP implements an award winning program that includes extensive education and outreach, technical training, a comprehensive designation initiative, design and development review, the City's Vacant Building Program and the Living Heritage Program. Living Heritage encompasses the Legacy Business program, a traditional trades academy, and the Living Heritage Symposium. 
Learn more about Legacy Businesses and the Conservancy's initiative here  »