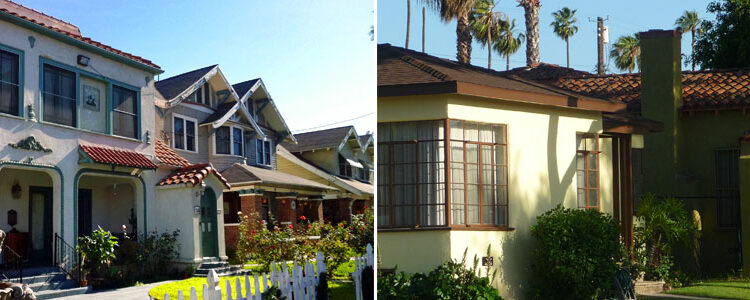 What is a conservation district?
A conservation district is a zoning tool that that can help preserve and enhance older neighborhoods by regulating lot size, building height, setbacks, streetscapes, and other neighborhood features. Los Angeles does not currently have a conservation district program, but it could be developed to complement the Historic Preservation Overlay Zone program as the Community Plan updates proceed. 
What would it mean for me?
A conservation district may be right for your neighborhood if:
Your neighborhood retains its distinct character, but does not qualify for or desire historic district status.
You would like to have clear parameters for the scale, orientation, massing, and landscaping of infill construction in order to conserve a cohesive neighborhood setting and ensure greater compatibility.
You are interested in having customized standards and guidelines for your neighborhood that go beyond the regulations in the Baseline Mansionization Ordinance.
You are less concerned about preventing demolition or preserving the character-defining features of individual properties. 
Background
Around the country, a number of local jurisdictions have adopted conservation district programs as a means of protecting and reinforcing neighborhood character.
Though Los Angeles does not yet have its own tool, cities like Boston, Dallas, Nashville, and Portland have developed zoning overlays to conserve neighborhoods with distinctive settings, land use patterns, and architectural character. 
Conservation districts are appropriate for older neighborhoods that may not be eligible for historic district designation, but still retain a discernable "sense of place." 
Currently, Historic Preservation Overlay Zones (HPOZs) are the primary tool for protecting neighborhood character in Los Angeles. Historic designation, however, is not necessarily the right option for every older neighborhood. 
For example, neighborhoods may not qualify for HPOZ status if a high number of potential contributing structures have been demolished and/or excessively altered. In other cases, residents may prioritize the compatibility of new development over the preservation of historic fabric or may desire less restrictive regulation. 
While contributing structures in HPOZs generally retain a high level of physical integrity, conservation districts would emphasize the cohesive features of a neighborhood, such as scale, massing, orientation, and landscaping.
Furthermore, while HPOZs regulate a range of historic architectural elements, including building materials, windows, doors, roofs, and ornament, conservation districts would allow for greater flexibility in developing design standards.
Conservation districts, therefore, would complement the City's HPOZ program by offering a viable alternative for managing change in older, but not necessarily historic, neighborhoods. 
SurveyLA, the City of Los Angeles' comprehensive citywide historic resources survey, has identified many neighborhoods that could be good candidates for conservation districts. In the survey reports, these neighborhoods are identified as "planning districts." Learn more about planning districts >>
Read more about conservation districts from the National Trust for Historic Preservation >>