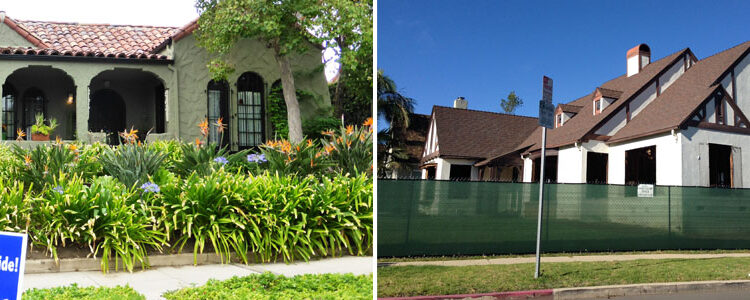 Interim Control Ordinances (ICOs)
What is an ICO?
The Interim Control Ordinances (ICO) for neighborhood conservation created a two-year moratorium on development in certain single-family neighborhoods in Los Angeles. The ordinances limited demolition in soon-to-be Historic Preservation Overlay Zones (HPOZ) and established temporary regulations for new construction in more than a dozen other neighborhoods. 
What does the ICO mean for me?
Though the ICOs expired in March 2017, they gave the City a two-year window in which to update the Baseline Mansionization Ordinance; develop five new HPOZs; and create a new menu of zoning options for single-family neighborhoods. 
Immediate relief from out-of-scale construction in neighborhoods experiencing rapid change. 
Fewer demolitions of contributing properties in proposed HPOZs, limiting losses of historic resources.  
Customized zoning options, tailored to your community's needs and desired growth.
Background
In 2008, the Los Angeles City Council adopted the Baseline Mansionization Ordinance (BMO), which seeks to regulate the scale and compatibility of new single-family residences. The ordinance aimed to conserve the city's rich stock of older and historic homes, which were vulnerable to demolition and replacement with bulky, out-of-scale new residences. It created a set of regulations limiting the size and scale of new construction.  
The ordinance, however, contained several bonuses and loopholes that actually incentivized the types of homes it was designed to discourage. In response to public outcry, City Council approved a motion in the fall of 2014 to revise the BMO and curb accelerating teardown trends throughout the city. 
As a next step, City Council approved two ICOs to provide immediate relief for twenty older and historic neighborhoods in March 2015.
The ICOs were designed to create a two-year cooling-off period while the City adopted long-term measures to curtail incompatible development. 
In five neighborhoods awaiting designation as HPOZs, the ICO limited demolitions and substantial alterations of single-family homes. The proposed HPOZs are: 
Carthay Square (adopted January 2017) 
El Sereno Berkshire Craftsman District (adopted November 2016)
Holmby Westwood (withdrawn September 2016)
Oxford Square (adopted February 2017)
Sunset Square (adopted January 2017)
A separate ICO regulates scale, massing, height, and setbacks of additions and new construction in the fifteen remaining neighborhoods: Faircrest Heights, Kentwood, La Brea Hancock, Larchmont Heights, Lower Council District 5, Inner Council District 5, Mar Vista/East Venice, Miracle Mile, Old Granada Hills, South Hollywood, Valley Village, Bel Air, The Oaks of Los Feliz, Beverlywood, and Fairfax Area. Five additional neighborhood areas were added to the docket in 2016: Brookside, Picfair Village, Sherman Oaks, Sycamore Square, and Wilshire Vista. 
As of March 2017, this second grouping of neighborhoods received a new R-1 Single Family Zone designation as part of the City's rollout of its new zoning code, an initiative known as re:code LA.
Learn more about mansionization and teardown trends in Los Angeles >>
Read the latest on the ICOs from the Office of Historic Resources >>