Resource
Wiss, Janney, Elstner Associates, Inc.
Wiss, Janney, Elstner Associates is a global firm of engineers, architects, and materials scientists committed to helping clients solve, repair, and avoid problems in the built world.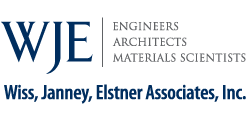 Resource Details
Address
225 S. Lake Avenue, Suite 500
Pasadena, CA 91101
Phone Number
Working within preservation guidelines and standards, Wiss, Janney, Elstner Associates' structural, architectural, and conservation professionals balance the need to provide practical, long-term solutions while conserving a structure's historic material. From planning and investigation through implementation, WJE has the technical knowledge, depth of resources, and decades of experience to address both the technical and the aesthetic needs in the preservation of significant historic structures.
With offices in Los Angeles and San Francisco, as well as cities nationwide, and an in-house construction materials laboratory, WJE professionals have preserved and rehabilitated historic and contemporary structures involving many types of construction materials, structural systems, and architectural components.
The range of our projects includes small residential to large iconic buildings and places: We have seismically strengthened beach cottages at Crystal Cove State Park, rehabilitated the granite and terra cotta facade at the Los Angeles County Hall of Justice, and conserved the teak window wall assemblies and repaired the original concrete at the Salk Institute for Biological Studies.
The firm and our knowledgeable personnel are recognized authorities in preservation. WJE has earned a number of preservation awards, including: The Harley J. McKee Award for Outstanding Contributions to Preservation Technology; California Preservation Foundation's Preservation Design Award for our work on the Salk Institute for Biological Studies, the Hibernia Bank Building of San Francisco, the Alcatraz Cellhouse, the Temple Sherith Israel, the Antelope Valley Indian Museum, and Lincoln Apartments.