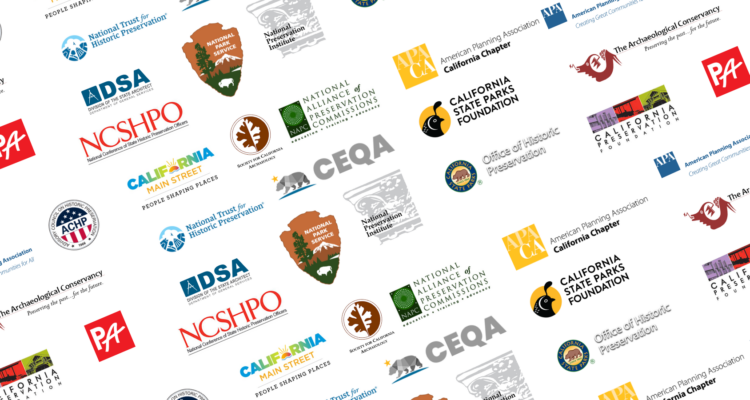 Resource
Preservation Organizations
Statewide and national organizations that work in various aspects of historic preservation in California
Statewide Organizations
California Chapter, American Planning Association (CCAPA)
CCAPA is a network of practicing planners, citizens, and elected officials committed to urban, suburban, regional, and rural planning in the state of California.
California Environmental Quality Act (CEQA)
The CEQA website is a cooperative effort among the Resources Agency, its CERES and LUPIN programs, and the Governor's Office of Planning and Research (see below). The site provides valuable information for planners, consultants, attorneys, and citizens with an interest in CEQA. Its offerings include CEQA Statute and Guidelines, an interactive process flow chart, a case law search, a directory of CEQA judges, answers to frequently asked questions, and more.
California Main Street Program
Focused on enhancing the economic, social, cultural, and environmental well‐being of historic and traditional commercial districts located in California's diverse cities, towns, and neighborhoods, California Main Street has helped communities build strong broad-based organizations to implement and manage the revitalization process. From 1986 to 2002, the California Main Street Program 3 was administered by the California Technology, Trade, and Commerce Agency and supported by State General Funds. In 2002/03, due to the budgetary crises, the Main Street Program was terminated when its parent agency was eliminated by the Budget Act. In August 2004, through the efforts of the California Main Street Alliance, the California Preservation Foundation, and the Californians for Preservation Action, as the result of Senate Bill 1107, signed by Governor Arnold Schwarzenegger, the Main Street Program was re‐established, without funding or staffing, within the Office of Historic Preservation (OHP). Although OHP has redirected limited staff and resources to the un‐funded Main Street Program, it can no longer absorb these costs without significant impacts to its mandated programs.
California Preservation Foundation (CPF)
CPF is a statewide nonprofit organization dedicated to the preservation of California's diverse cultural and architectural heritage. With over 1,500 members, CPF is the state's leading voice for historic preservation, as well as its most valuable source for preservation‐related assistance. The foundation partners with the National Trust for Historic Preservation and Californians for Preservation Action.
California State Office of Historic Preservation (OHP)
OHP is responsible for administering federally and state-mandated historic preservation programs to further the identification, evaluation, registration, and protection of California's irreplaceable archaeological and historical resources under the direction of the State Historic Preservation Officer (SHPO), a gubernatorial appointee, and the State Historical Resources Commission. OHP's responsibilities include:
Identifying, evaluating, and registering historic properties
Ensuring compliance with federal and state regulatory obligations
Encouraging the adoption of economic incentives programs designed to benefit property owners
Encouraging economic revitalization by promoting a historic preservation ethic through preservation education and public awareness and, most significantly, by demonstrating leadership and stewardship for historic preservation in California
California State Parks Foundation (CSPF)
CSPF is the only statewide independent nonprofit organization dedicated to protecting, enhancing, and advocating for California's magnificent state parks. Since 1969, CSPF has raised more than $170 million to benefit state parks. CSPF is committed to improving the quality of life for all Californians by expanding access to the natural beauty, rich culture and history, and recreational and educational opportunities offered by California's 278 state parks—the largest state park system in the United States.
Division of the State Architect (DSA)
DSA provides design and construction oversight for K–12 schools, community colleges, and various other state‐owned and leased facilities. The Division also develops accessibility, structural safety, fire and life safety, and historical building codes and standards used in various public and private buildings throughout the State of California.
Society for California Archaeology (SCA)
SCA is a nonprofit scientific and educational organization dedicated to research, understanding, interpretation, and conservation of the heritage of California and the regions that surround and pertain to it.
National Organizations
Advisory Council on Historic Preservation (ACHP)
This council is an independent federal agency that promotes the preservation, enhancement, and productive use of our nation's historic resources, and advises the President and Congress on national historic preservation policy.
American Planning Association (APA)
The APA and its professional institute, the American Institute of Certified Planners (AICP), are organized to advance the art and science of planning and to foster the activity of planning — physical, economic, and social — at the local, regional, state, and national levels. The objective of the APA is to encourage planning that will contribute to public well‐being by developing communities and environments that meet the needs of people and society more effectively. This site provides information on the AICP exam, federal planning legislation, educational opportunities, and much more.
The Archaeological Conservancy
The Archaeological Conservancy, established in 1980, is the only national nonprofit organization dedicated to acquiring and preserving the best of our nation's remaining archaeological sites. Based in Albuquerque, New Mexico, the Conservancy also operates regional offices in Mississippi, Maryland, Ohio, and California.
Heritage Documentation Programs
Heritage Documentation Programs administers HABS (Historic American Buildings Survey), the Federal Government's oldest preservation program, and companion programs HAER (Historic American Engineering Record), HALS (Historic American Landscapes Survey), and CRGIS (Cultural Resources Geographic Information Systems). Documentation produced through the programs constitutes the nation's largest archive of historic architectural, engineering, and landscape documentation.
National Alliance of Preservation Commissions (NAPC)
NAPC is the only organization devoted solely to representing the nation's preservation design review commissions. NAPC provides technical support and manages an information network to help local commissions accomplish their preservation objectives. The alliance also serves as an advocate at federal, state, and local levels of government to promote policies and programs that support preservation commission efforts.
National Conference of State Historic Preservation Officers (NCSHPO)
NCSHPO is the professional association of the state government officials who carry out the national historic preservation program as delegates of the Secretary of the Interior pursuant to the National Historic Preservation Act of 1966, as amended (16 USC 470).
National Environmental Policy Act (NEPA)
NEPA is the nation's broadest environmental law, put in place in 1970. It establishes environmental policy for the nation, provides an interdisciplinary framework for federal agencies to prevent environmental damage, and contains "action‐forcing" procedures to ensure that federal agency decision‐makers consider the effects their decisions will have on the environment. Their website contains six NEPA procedures, statute, and related executive orders, as well as a Citizen's Guide and information on the Council for Environmental Quality.
National Park Service (NPS)
Beyond the parks, the NPS is part of a national preservation partnership working with American Indian tribes, states, local governments, nonprofit organizations, historic property owners, and others who believe in the importance of our shared heritage and its preservation.
National Preservation Institute (NPI)
Founded in 1980 as a nonprofit organization, NPI offers seminars in historic preservation and cultural resource management. NPI is proud to serve a broad spectrum of professionals from both the government and private sectors by providing preservation information, knowledge, and skills to train and guide the stewards of this nation's historic and cultural places.
National Register of Historic Places
The National Register of Historic Places is the nation's official list of cultural resources worthy of preservation. Authorized under the National Historic Preservation Act of 1966, the National Register is part of a national program to coordinate and support public and private efforts to identify, evaluate, and protect our historic and archeological resources. Properties listed in the Register include districts, sites, buildings, structures, and objects that are significant in American history, architecture, archeology, engineering, and culture. The National Register is administered by the National Park Service, which is part of the U.S. Department of the Interior.
National Trust for Historic Preservation (NTHP)
NTHP provides leadership, education, and advocacy to save America's diverse historic places and revitalize our communities. This is a private, nonprofit membership organization.
Preservation Action (PA)
Founded in 1974, PA is a grassroots organization seeking to make historic preservation a national priority by advocating to all branches of the federal government for sound preservation policy and programs.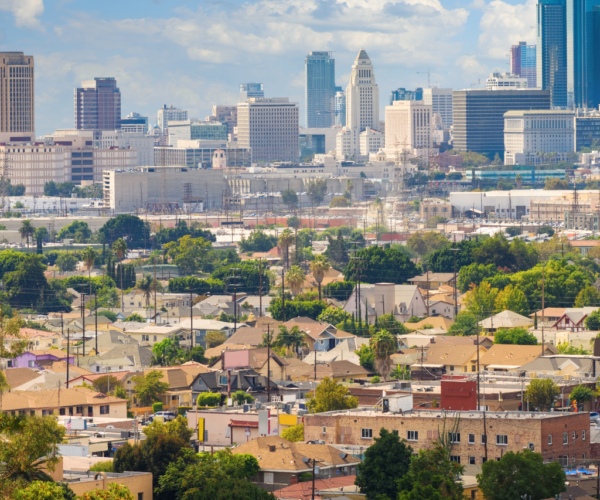 Help Preserve Historic Places in Los Angeles