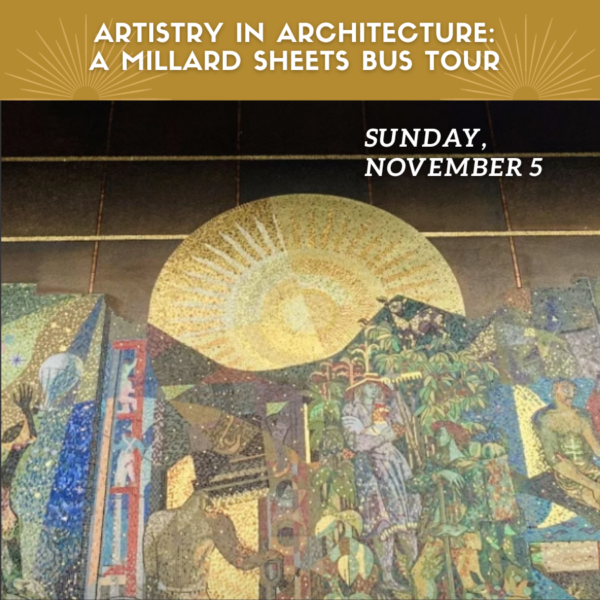 Tours
Artistry in Architecture: A Millard Sheets Bus Tour
Sunday, November 5, 2023
10 a.m.
Join us for an exciting, one-day-only bus tour featuring the iconic work of Millard Sheets in Los Angeles. Historian and author Adam Arenson leads us through some of Sheets's most notable locations in Los Angeles.
Sold Out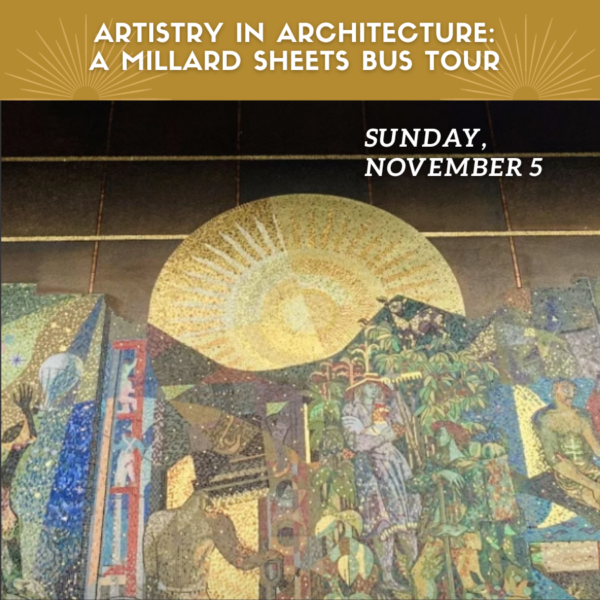 $85 Members/Youth (17 and under)
$95 General Public
Artist Millard Sheets captured the imagination of millions with his unique blending of artistic style within architectural design. Sheets brought his eye-catching mural and paintwork to over 100 different Home Savings and Loan Branches, many of which still exist as Chase Bank branches.
Professor Adam Arenson, author of Banking on Beauty: Millard Sheets and Midcentury Commercial Architecture in California, will lead this bus tour of sites designed by Sheets and speak to Sheets's influence and legacy within Southern California.
In recent years, Sheets' work has been threatened by significant alterations, making raising awareness of these buildings even more important.
Not wheelchair accessible
Details & Getting There
Important Policies and Covid-19 Safety
Tour will run rain or shine.
Masks are not required while outside on the tour.
All sales are final.
If a member of your party is in a wheelchair, please let us know in advance by emailing info@laconservancy.org.
For additional details, see below.
All participants in the Los Angeles Conservancy-sponsored Walking Tours knowingly and freely accept and assume all risks, both known and unknown, and AGREE TO RELEASE, DEFEND, INDEMNIFY, NOT SUE, AND HOLD HARMLESS the Los Angeles Conservancy, its principals, officers, employees, volunteers, sponsors, agents and other participants from any and all claims, damages (including medical expenses and attorneys' fees), injuries and expenses arising out of, or resulting from your voluntary attendance/participation in Walking Tours.
Special thanks to our friends at
Major funding for the Los Angeles Conservancy's educational programs is provided by the LaFetra Foundation and the Kenneth T. and Eileen L. Norris Foundation.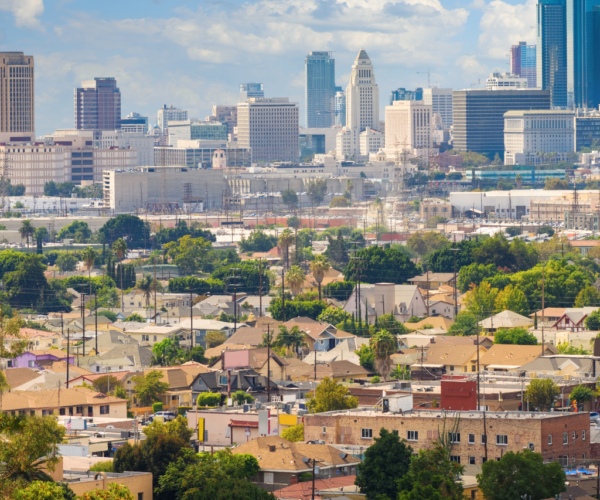 Help Preserve Historic Places in Los Angeles