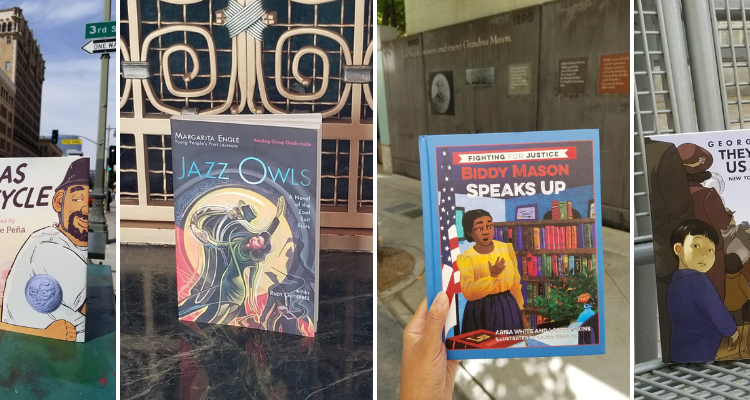 2021 People + Places Book List for Kids
The Los Angeles Conservancy's 2021 People + Places book list includes stories about people, events, and diverse communities in L.A. and beyond. 
For further enrichment, downloadable reading guides with questions and mini activities are provided for each book.
We're grateful to the Young Adult Librarians from the Los Angeles Public Library's Teen'Scape department who partnered with us on curating the high school list. All books are available at the Los Angeles Public Library.
ELEMENTARY BOOK LIST

Dream Builder: The Story of Architect Philip Freelon 
Written by Kelly Lyons/Illustrated by Laura Freeman
Reading Guide 
Read about the life of architect Philip Freelon who builds schools, libraries, and museums, including the Smithsonian National Museum of African American History and Culture 
Maya Lin: Artist-Architect of Light and Lines
Written by Jeanne Walker Harvey/Illustrated by Dow Phumiruk
Reading Guide 
Learn about the visionary artist-architect who designed the Vietnam Veterans Memorial in Washington, DC. 
Maybe Something Beautiful: How Art Transformed a Neighborhood
Written by F. Isabel Campoy and Theresa Howell/Illustrated by Rafael López
Reading Guide
Based on a true story, join Mira as she discovers the incredible ways that urban art can transform a neighborhood.  
My Papi Has a Motorcycle
Written by Isabel Quintero/Illustrated by Zeke Peña
Reading Guide 
A celebration of the love between a father and daughter, and of a vibrant immigrant neighborhood in Southern California, by an award-winning author and illustrator duo. 
Someone Builds the Dream
Written by Lisa Wheeler/Illustrated by Loren Long
Reading Guide
This picture book celebrates the skilled men and women who tirelessly work to physically build the dreams of others.    
The Blue House
Written by Phoebe Wahl 
Reading Guide
A book that touches on the issue of housing insecurity, it's the story of how a boy and his father keep the memory of their old house alive in their new home. 
Waa' aka': The Bird Who Fell in Love with the Sun
Written by Cindy Alvitre/Illustrated by Carly Lake
Reading Guide 
In this traditional Tongva creation story, a beautiful bird named Waa'aka falls in love with the sun and tries to follow him into the sky. 
MIDDLE SCHOOL BOOK LIST

Biddy Mason Speaks Up
Written by Arisa White and Lauren Atkins
Reading Guide
This is age-appropriate yet unflinching examination of slavery, racism, and community healing is focused on one of the most important women in Los Angeles history: Biddy Mason.
Hidden Heroes, Historic Places
Written by Octavia Labs at Los Angeles Public Library and Los Angeles Conservancy
Reading Guide
Discover people who impacted Los Angeles and the places that tell their stories in this fun coloring and activity book!
The House That Lou Built
Written by Mae Respeito
Reading Guide
Join Lou and her friends on an adventure where they understand the importance of family, culture, the meaning of home.
They Called Us Enemy
Written by George Takei, Justin Eisinger, and Steven Scott/Art by Harmony Becker
Reading Guide
This bestselling graphic memoir by actor/activist George Takei details his experience as a young Japanese American boy, incarcerated during World War II.
The Vanderbeekers of 141st Street
Written by Karina Yan Glaser
Reading Guide
A heartwarming story of how one family works together to save their beloved brownstone home in Harlem, NY.
HIGH SCHOOL BOOK LIST

The Black Kids
Written by Christina Hammonds Reed
Reading Guide
Set during the 1992 Riots in Los Angeles, this coming-of-story examines topics of race, identity, and how the riots impact people differently.
El Pueblo: The Historic Heart of Los Angeles
Written by Jean Poole and Tevvy Ball
Reading Guide
Learn how El Pueblo, considered the founding place of the city of Los Angeles, transformed over time and shaped the heritage of the city.
Falling from Horses
Written by Molly Gross
Reading Guide
Follow the journey of Bud Frazer, an aspiring stunt rider, and Lily Shaw, a budding screenwriter, as they find their place in a late 1930s Los Angeles.
Jazz Owls: A Novel of the Zoot Suit Riots
Written by Margarita Engle
Reading Guide
This fictional novel from Young People's Poet Laureate Margarita Engle that tells the story of a Mexican American family's experiences during the Zoot Suit Riots of Los Angeles in 1943.
LAtitudes: An Angeleno's Atlas
Edited by Patricia Akida/Foreword by Luis Alfaro/Introduction by Glen Creason
Reading Guide
A series of maps, infographics, and essays that explore lesser-known sites and the layers of history in Los Angeles.
Major funding for the Los Angeles Conservancy's educational programs is provided by the LaFetra Foundation and the Kenneth T. and Eileen L. Norris Foundation.