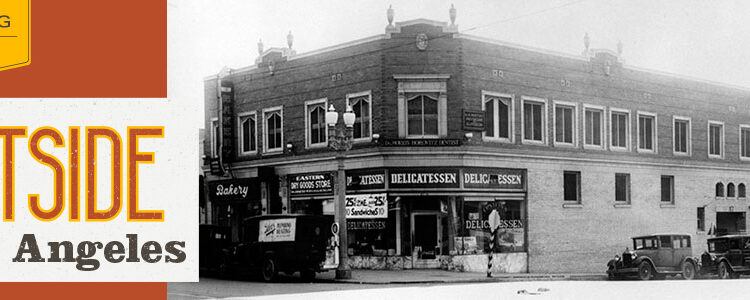 Throughout the 1920s and '30s, about forty percent of the population in Boyle Heights was Jewish. The core of the community was Brooklyn Avenue, since renamed Cesar E. Chavez Avenue, which hosted a string of Jewish-owned businesses, including the original Canter's Deli. 
Distinct from the upwardly mobile Jewish community that emerged in Hollywood and the Westside before World War II, Jews in Boyle Heights were primarily working-class families of Eastern European descent, largely secular, and politically engaged. A number of influential labor unions opened offices on Brooklyn Avenue, in close proximity to their members. Yiddish was widely spoken throughout the neighborhood.
Following the 1948 Supreme Court decision that declared restrictive covenants unconstitutional, more and more Jewish families began moving to the expanding suburbs in the western region of the city. Similarly, the newfound ease of obtaining home loans further propelled the Jewish out-migration, contributing to a major demographic shift in the Eastside. Those who remained in Boyle Heights deepened their connections with the rapidly growing Latinx community.
During this period, the tradition of multiculturalism and leftist political activism that had come to characterize Boyle Heights continued to flourish, and the local Jewish community continued to grow more secular. By the late 1950s, however, most families had relocated to other neighborhoods, although a number of Jewish businesses along the Brooklyn Avenue corridor kept their doors open over the next few decades.  
Today, a handful of places associated with Jewish history in the Eastside remain.
One of the most recognizable Jewish monuments in Boyle Heights is the Breed Street Shul, known as the "Queen of the Shuls." With 75,000 members at its peak, it was the largest congregation west of Chicago. Canter's Deli, now a Fairfax District institution, originally opened its doors on Brooklyn Avenue in 1931. 
During the 1920s, cosmetics pioneer Max Factor made his home in Boyle Heights, drawn by the thriving Jewish community and easy access to downtown. 
The Jewish Home for the Aged, which first opened in 1916, took on new life in the 1970s as the Keiro Retirement Home, which today serves Los Angeles' Japanese American community.
East Los Angeles is home to two Jewish cemeteries – Home of Peace and Mount Zion – that serve as the final resting places of many influential Angelenos. Among the notable burials at Home of Peace are Curly and Shemp Howard (two members of The Three Stooges), Fanny Brice, Louis B. Mayer, and Harry, Jack, and Sam Warner (co-founders of the Warner Brothers film studios). 
In nearby City Terrace, located in the hills above East Los Angeles, the Menorah Center on Wabash Avenue hosted community ceremonies and offered social services from the 1920s through the 1950s. In 1966, the building was purchased by the Salesian Boys and Girls Club, which continues to operate the building today.