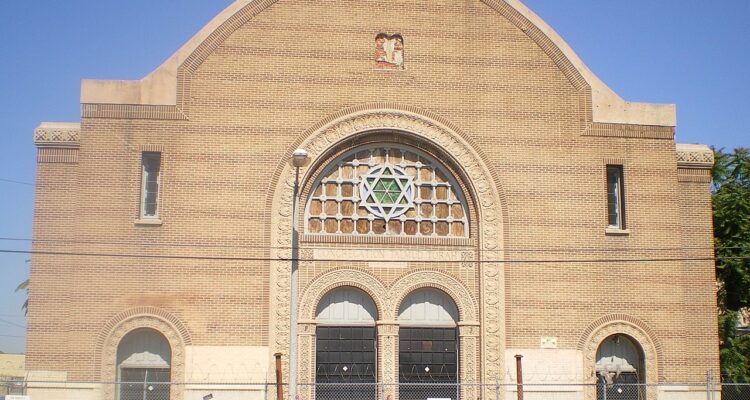 Place
Breed Street Shul
Reminiscent of Eastern European synagogues, the Breed Street Shul was the religious and cultural anchor of the Eastside's early Jewish community.
Good News! In 2021, the State of California awarded a $14.9 million grant to complete the long-awaited restoration and reuse of the historic Breed Street Shul building. This is a culmination of more than 25 years of community efforts, transforming this Boyle Heights landmark to commemorate its Jewish roots while also serving and celebrating the current Latinx population of the neighborhood. 
Congregation Talmud Torah, more commonly known as the Breed Street Shul, was a keystone in the Jewish community in Boyle Heights and nearby City Terrace from the 1920s through the 1950s. Architecturally, it was among the most monumental of the few dozen synagogues that were built in the area at the time, leading locals to nickname it "The Queen of the Shuls."
The Shul's orthodox congregation was first established in 1904. As a young congregation, its members initially met in private houses near First Street. In 1915, they purchased the lot where the Shul stands today, constructing a wood-framed school building and small synagogue. The current synagogue was built several years later and dedicated in 1923. 
Architect Abram M. Edelman, whose father was Los Angeles' first rabbi, designed the Shul in the Byzantine Revival style, with round arches, bas-relief ornamentation, and dichromatic brickwork. The interior walls were adorned with illustrations reminiscent of Eastern European folk art. The result was a building that conjured up an old-world sensibility, fostering a spirit of community among the largely immigrant congregation. 
From the beginning, the Breed Street Shul was the center of civic, social, and philanthropic activity within the Eastside Jewish community.
Several important institutions, including the United Jewish Welfare Fund, used the building as a launching point, and numerous prominent families worshipped there. In 1945, Rabbi Osher Zilberstein opened Los Angeles' first Jewish parochial elementary school on the site. 
The Breed Street Shul was the last of the Eastside synagogues to remain open in the decades following the population shifts of the postwar era. Beginning in the 1980s, the building fell victim to neglect, vandalism, and earthquake damage, with the final services being held in 1996. A broad coalition of community members organized to prevent demolition of the Shul and to develop a long-term plan for rehabilitation. The 1915 building reopened in November 2011.
The nonprofit Breed Street Shul Project, Inc. acquired the property in 2000 with the goal of rehabilitating the buildings to meet the needs of the current community in Boyle Heights. 
The Conservancy honored the Breed Street Shul with a Preservation Award in 2005 for the first phase of its rehabilitation, which included the seismic stabilization of the sanctuary and the restoration of its historic stained glass windows.