Architect
Edward Durell Stone
Edward Durell Stone was an early pioneer of the New Formalist style. A highly prolific architect who designed buildings across the globe, by 1958 Stone was one of the best-known architects in America.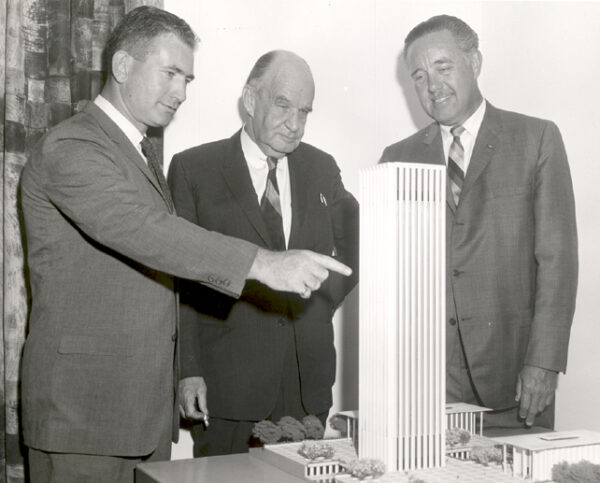 Edward Durell Stone (1902 – 1978)
Born in Fayetteville, Arkansas in 1902, Stone was the youngest of four children. He displayed an aptitude for drawing at an early age. After attending the University of Arkansas, Stone moved to Boston in 1922. He took classes at the Boston Architectural Club (now Boston Architectural College), Harvard University's School of Architecture (where he earned a scholarship), and MIT, though he never earned a degree.
Stone began his career as a draftsman at the Boston-based firm Coolidge, Shepley, Bulfinch and Abbott. He moved to New York in 1929, joining the firm of Schultze & Weaver, where he designed the main lobby, grand ballroom, and private dining rooms of the Waldorf-Astoria. He received his first independent commission in 1933.
Stone traveled often to Italy and drew upon European precedents in his work. He became an early pioneer of the New Formalist style, whose classically inspired forms and materials countered the stark minimalism of the International Style. 
His firm achieved remarkable success and international acclaim. Though he lived in New York the rest of his life, Stone designed a number of important buildings in the Los Angeles area. In 1958, the American Institute of Architects (AIA) selected Stone's Stuart Pharmaceutical Company building in Pasadena as one of the five best designs of the year. 
Financier Howard Ahmanson (responsible for the Home Savings and Loan branches designed by Millard Sheets) commissioned Stone to design his Wilshire Boulevard headquarters. Completed in 1967, Ahmanson Center (now Wilshire Colonnade) remains a striking monument to Ahmanson's financial and cultural contributions to Los Angeles. 
Stone's Edward T. Foley Center (1964) on the campus of Loyola Marymount University (LMU) became an advocacy issue for the Conservancy in 2010. LMU released a master plan for its Westchester campus that retained the university's oldest structures yet left postwar buildings such as the Foley Center at risk. The Conservancy worked with LMU and the City of Los Angeles to revise the master plan to include this excellent example of Stone's work. 
Other examples of Stone's  work in Greater Los Angeles include Kresge Chapel at the Claremont School of Theology (1957), Perpetual Savings and Loan Association in Beverly Hills (1961), Beckman Auditorium at Caltech (1963), and the Von KleinSmid Center at the University of Southern California (1966). 
Stone retired in 1974 and died on August 6, 1978. His firm, Edward Durell Stone & Associates, continued until 1993.
For more information on Edward Durell Stone, visit edwarddurellstone.org. 
Related Places
Place

University of Southern California – Modern Buildings

Place

Home Federal Savings/Pacific Mercantile Bank Building

Place

Kresge Chapel, Claremont School of Theology
Place

University of Southern California – Modern Buildings

Place

Home Federal Savings/Pacific Mercantile Bank Building

Place

Kresge Chapel, Claremont School of Theology

Place

The Stuart Building

Place

Beckman Auditorium, Caltech

Place

Edward T. Foley Center, Loyola Marymount University