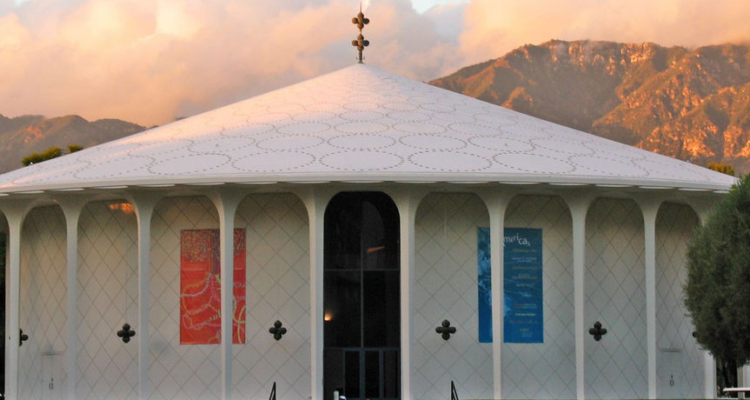 Place
Beckman Auditorium, Caltech
A stunning juxtaposition of historic forms and modern materials come together to provide Caltech students with a modern interpretation of a Roman temple.
Beckman Auditorium at the California Institute of Technology (Caltech) in Pasadena may be one of Edward Durell Stone's smallest Los Angeles-area buildings, but it is also among his finest.
This little gem of a building plays on light, form, and pattern to create a modern interpretation of a circular Roman temple. A continuous peristyle of diamond-shaped capitals surrounds the building and culminates in a wide overhanging eave with repeated semicircular cut-outs, allowing for a dramatic shade pattern across the building's façade. This combination of historic forms and modern materials is emblematic of New Formalism, a style made popular by Stone in the 1960s.
The style was particularly well-suited to institutional campuses such as Caltech, as it is modern in its execution but looks to historic precedents in form and pattern, making it a compatible style choice in historic settings. At the time of Beckman Auditorium's dedication in 1964, Stone was already a world-renowned architect with high-profile commissions across the globe.
His work can be found on a number of Southern California college campuses in addition to Caltech, including Loyola University, the University of Southern California, and Harvey Mudd College in Claremont. In a 1964 interview about his design of Beckman Auditorium,
Stone stated: "I try to imbue everything I do with beauty." From its sun-dappled exterior of interlocking shapes to its intimate auditorium, the building is nothing if not beautiful, both inside and out.